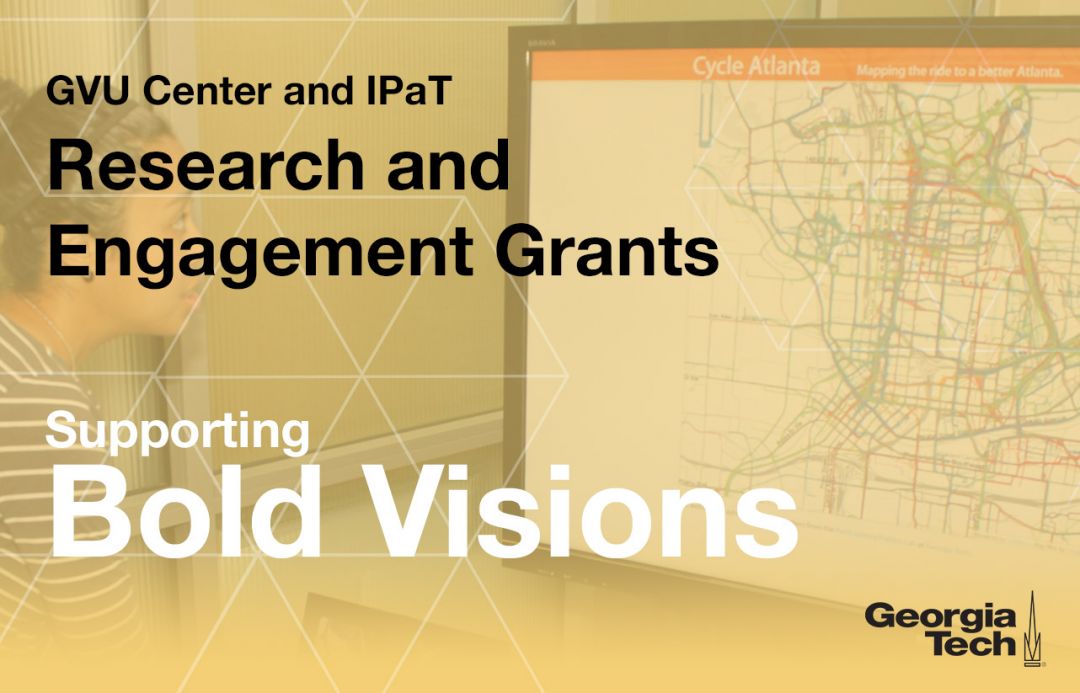 Speaker:

Anh-Ton Tran, Lisa Marks, Noah Posner, Anirudh Sarma, and Manasvini Sethuraman

Date:

2022-04-21 12:30:00

Location:

BlueJeans Events
GVU Center Brown Bag Seminar: 2021 Research and Engagement Grant Winners
Counter-Institutional Data Accomplices
Project Title: Court Eviction Data as a Boundary Object for Housing Work with Carl DiSalvo [Interactive Computing], Elora Raymond [City and Regional Planning], and Anh-Ton Tran [Interactive Computing]
Housing costs in Atlanta have increased nearly 28% since the start of the pandemic. Meanwhile, institutional investors and Private Equity firms are snatching up more property and operating as landlords across communities of color, particularly in Atlanta. This reinscribes historical cycles of racial dispossession and inequity. How might computing scholars, with our disciplinary expertise in data, complement the fight for housing as a human right? Particularly when we live in an age where data is used as a scaffold to the commodification of housing? In this work, we present our findings and reflections working with a local housing activist-non-profit: Housing Justice League. We first describe and analyze the data practices volunteering and technically managing a remote, community outreach tool for tenants facing eviction and seeking organizing support. We then interpret the work of Housing Justice League through the lens of care, identifying home-brewed databases and data fragmentations as negotiations between care and efficiency. We argue that care is enacted through the assemblage of the technical systems, and present tinkering as an alternative approach to developing data practices. Understanding how housing activists use data is a prerequisite to consider aiding and abetting social movement work with data. We conclude by sharing our most recent endeavors to utilize and couple institutional eviction data with grassroots data to inform organizing initiatives. We present a preliminary case on why corporate landlords exacerbate housing instability and how data can support future tenant organizing work.
Creating E-Textiles Across Disciplines
Project Title: E-Textile Workshop Series with Lisa Marks [Industrial Design] and Noah Posner [Industrial Design]
GVU is preparing to open an exciting new lab focused on the area of E-textiles. This lab focuses on a rapidly emerging field that will lead to technological innovation for wearables, home goods, healthcare, and transportation. To maximize this field's potential, we must have students trained in both the hardware and coding as well as the fabric structure and making methods. This Engagement Grant has funded the development of a series of 3 workshops (weaving, knitting, and CNC embroidery), each involving a discussion of the textile qualities and history, a hands-on demonstration and student creation of the textile, coding and implementation of electronic sensors, and a brainstorming session of potential uses of the methods covered in a variety of fields.
Internet Connection, Disconnection, and Everything In-Between
Project Title: Edge Computing for Bringing Smart Services to Underserved Urban Communities with Kishore Ramachandran [Computer Science], Ashutosh Dhekne [Computer Science], Manasvini Sethuraman [Computer Science], and Anirudh Sarma [Computer Science]
Today we are substantially dependent on centralized infrastructure (aka Cloud based services such as Netflix, Uber, YouTube, Coursera, Google Maps, etc.) for most of our everyday activities including learning, hailing a ride, restaurant suggestions in a neighborhood, etc. Many of our day-to-day activities depend on smart services made available to our fingertips from the cloud —be it participating in school, homework submission, job hunting, or grocery shopping. Studies have shown that access to the Internet (connection speed, duration of connectivity, and cost of connectivity) influences the way people search for jobs or do homework which in turn affects quality of life. While Internet penetration continues to be on the rise in densely populated urban areas, there continues to be a section of society where reliable and good Internet access is still not the norm. In urban areas, lack of access to the Internet is often correlated with lower income. We engaged with local leaders, public schools and non-profits to understand the internet infrastructure in Atlanta's Westside, especially from the education standpoint. We present some of our findings, along with proposals for low-cost self-sustainable technological solutions to improve internet penetration in the neighborhood, without necessarily relying on increasing the number of internet subscriptions.
Bio:
Counter-Institutional Data Accomplices
Anh-Ton Tran is a PhD student advised by Dr. Carl DiSalvo in Human Centered Computing at Georgia Tech's School of Interactive Computing. His current research focuses on institutional and community eviction data. He studies how data acts as infrastructure for institutions and governments that coordinate their work. He also studies how data can be used to support and build community power through tenant organizing, and how data can be a form of participatory "institutioning."
Creating E-Textiles Across Disciplines
Lisa Marks is an Assistant Professor in Industrial Design specializing in developing new technological adaptations and applications for traditional textile techniques. Her unique pedagogy aims to diversify material culture in Industrial Design and highlight how issues surrounding gender, class, and race have influenced Design throughout history. Her work is in the permanent material collection at the University of Pennsylvania and has shown at design weeks in New York, Milan, India, and Bangkok. She has won the 2019 International Grand Prix Lexus Design Award.
Noah Posner is a research scientist with the IMAGINE Lab and lab manager of the Interactive Product Design Lab (IPDL) in the School of Industrial Design. His focus is on creating interactive experiences that leverage physical interaction. He holds degrees in Industrial Design, Mechanical Engineering and an M.S. in Human-Computer Interaction. His research involves creating rich physical interactions, designing and fabricating interactive devices using CAD and Rapid prototyping technologies, and developing educational tools and workshops for STEAM learning that focus on utilizing hands-on learning with intentionally designed artifacts. He also teaches courses in Physical Prototyping for Human-Computer Interaction and Interactive Products for Industrial Design.
Internet Connection, Disconnection, and Everything In-Between
Anirudh Sarma is a 2nd year PhD student at the Embedded Pervasive Lab and advised by Dr. Kishore Ramachandran. He is interested in exploring edge-centric mechanisms to optimize the data plane.
Manasvini Sethuraman is a 3rd year PhD student in the Embedded Pervasive Lab led by Dr. Kishore Ramachandran. Her research interests are primarily in design of edge/cloud computing systems focused on intermittent connectivity to the Internet.
Video is not available for this event.