Researchers Envision the Next Generation of Computing
Oct. 28, 2015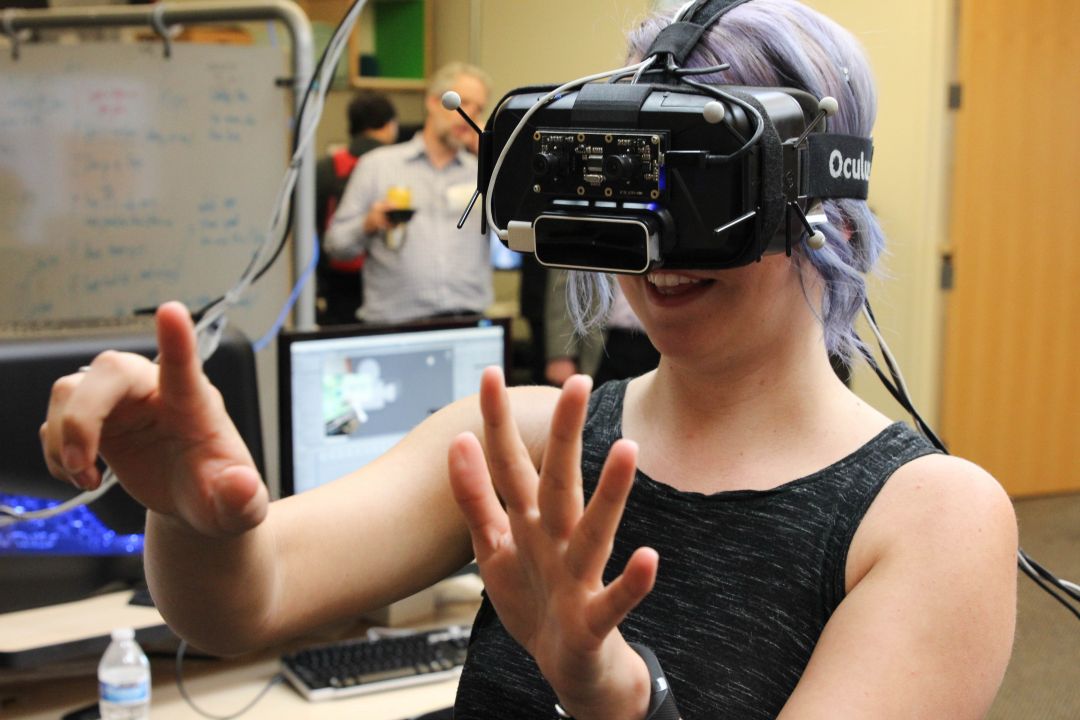 The Augmented Environments Lab at Georgia Tech is creating a platform for experiencing room-scale augmented reality through head-mounted displays. Prototypes use various tracking methods to interpret the user's gestures and movements. The project is a basis for exploring how to develop a collaborative workspace, solving multi-content issues and creating content for augmented reality.
C
omputing technology continues to raise many bars and create new, often deeply personal experiences for mass numbers of people. Some big announcements this year: Tesla's driving-assist technology; the new Facebook M, a personal assistant merging human and artificial intelligence; and Microsoft Hololens, holographic-enabled hardware that may finally merge the virtual world with the real one. These commercial technologies are on the cusp and they portend what is coming next.
Georgia Tech is exploring equally ambitious and far-reaching projects - in these fields as well as others - where technology enables personal, economic, and social growth. Homecoming week at Georgia Tech offered more than just a stunning finish against rival Florida State - It captured a vision of the future as seen by more than 400 researchers with work in the GVU Center Research Showcase that took place on Oct. 21.
From artificially intelligent computers to mobile, wearable and interactive entertainment systems, GVU showcased a stunning number of inventions for more than 300 visitors in the Technology Square Research Building.
"GVU is where some of the most exciting and innovative work is happening at the intersection of people and interactive computing technology," says Keith Edwards, director of the GVU Center and professor of Interactive Computing. "The great thing about the Research Showcase is that, twice a year, we get the chance to open our doors and show off some of this work to the world."
A small sample of what visitors experienced: computing-enhanced canines, computers that watch YouTube to learn game design, software that maps rover trips on Mars, and an app that merges TV shows with their game counterparts.
"One of the things I think most of our visitors realize after coming to a Research Showcase is how diverse and interdisciplinary the work at GVU is," says Edwards. "We have students and faculty from across all six Colleges at Georgia Tech, working on projects that cross computing, engineering, the sciences, the humanities, and more."
GVU Center Fall Research Showcase
GVU Distinguished Alumnus Lecturer Michael Gourlay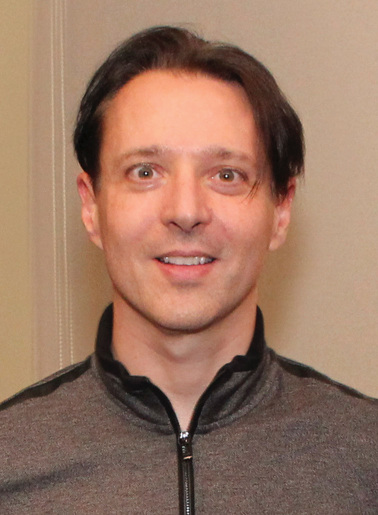 B
old technological ideas have captured our culture's imagination and what were once futuristic notions of technological advancement are becoming our reality.
So what's next? How about a holographic computer that makes it possible to interact with high-fidelity holograms in physical spaces.
Michael Gourlay, a 1993 Georgia Tech graduate in physics, is working on just a such a project at Microsoft. He is a Principal Lead Software Development Engineer on Microsoft's HoloLens in the Environmental Understanding Group.
Hololens is touted by the company as the first fully untethered, holographic computer. Microsoft showcased the possibilities this summer with a live demo of Minecraft, a game which allows gamers to build entire Lego-like landscapes and worlds. A Hololons wearer was shown interacting with the holographic game world just as one might a miniature scale model. Except with this model, you could actually poke your head through the walls to see the inside of a building.
Michael delivered a technical lecture at Georgia Tech on environmental factors in delivering this type of experience. Afterward he talked with us a little bit about Hololens, what led us to this point, and where things may head next.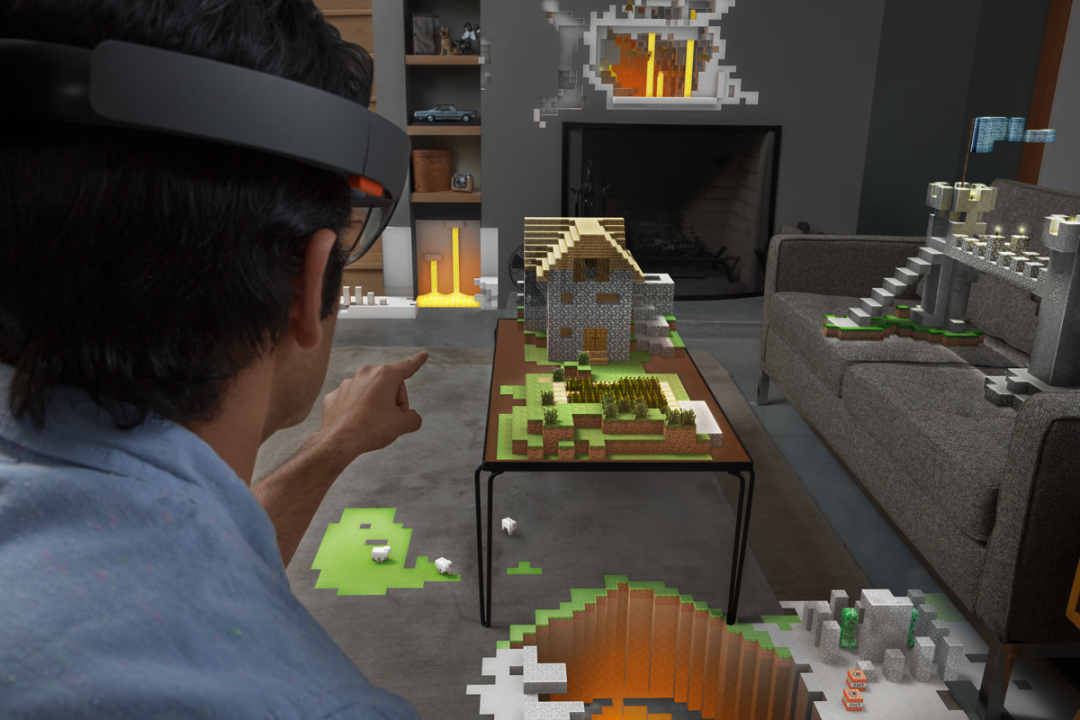 Holograph-enabled hardware, such as Microsoft's Hololens shown here, could advance a host of domain breakthroughs using 3D modeling with real-time responsiveness. Pictured: Minecraft in a living room space lets users expand their creative canvas, minus the cleanup.
Foley Dinner Recognizes Researcher Contributions, Donor Support
T
he Foley Scholars Dinner on Oct. 21 was a celebration of community and the research contributions of the GVU Center's top graduate students. Faculty, students, alumni and donors came together to recognize these exceptional students and their achievements at a gala dinner at the top of the One Ninety One Peachtree Tower overlooking downtown Atlanta.
The 8th Annual Foley Scholars Dinner was the first to recognize an all-female group of finalists from which the three Foley Scholars were chosen. The honorees' work represents computational advancements in computing education, credibility of social media information, and medical interventions using online data. The Foley Scholars for 2015-2016, representing each of these areas, respectively, are Barbara Ericson, Ph.D. HCC candidate, advised by Jim Foley; Tanushree Mitra, Ph.D. CS student, advised by Eric Gilbert; and Jessica Pater, Ph.D. HCC student, advised by Beth Mynatt.
The James D. Foley GVU Center Endowment supports the students and research activities of the GVU Center, including the Foley Scholarships, awarded annually to the center's top graduate students. This year, a new award category, the GVU Distinguished Master's Student Award, was made possible because of donor support. Monet Spells, an MS HCI student advised by Betsy DiSalvo, was named the inaugural recipient.
Find out more about the graduate honorees reasearch here or click below to listen to the researchers describe the work in their own words.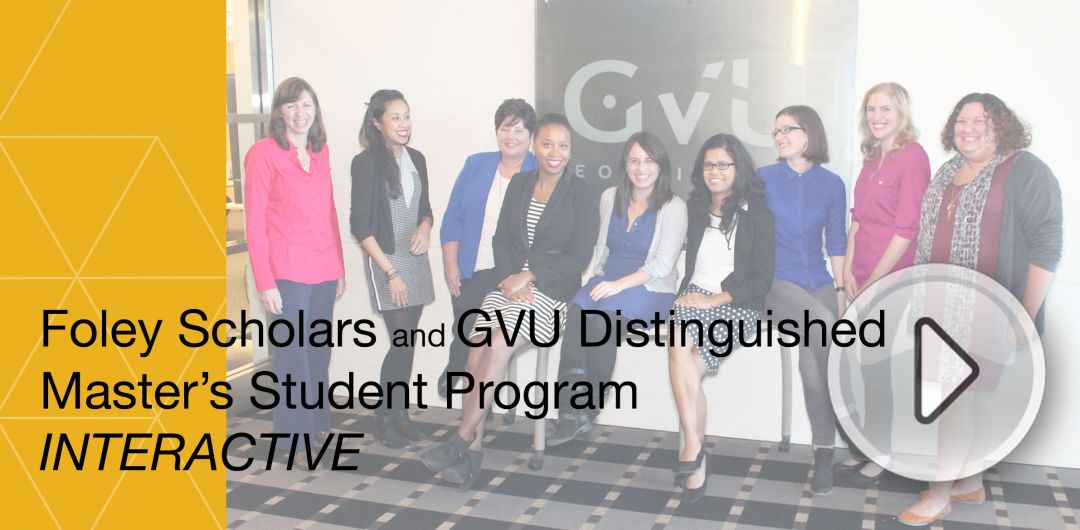 Great Scott! GVU Researchers Show off Tech, Ponder 'Back to the Future II' Vision of 2015
T
he GVU Center Fall Research Showcase gave a glimpse of how technology is constantly evolving, but it also coincided with an important date in science fiction history. Time-traveler Marty McFly, Michael J. Fox's character in the Back to the Future trilogy, traveled from 1985 to the future, Oct. 21, 2015, to be exact, the same date as the showcase. How might the intrepid Marty McFly use Georgia Tech technology? Find out below.
Heads-Up Display to Enable Eco-Friendly Driving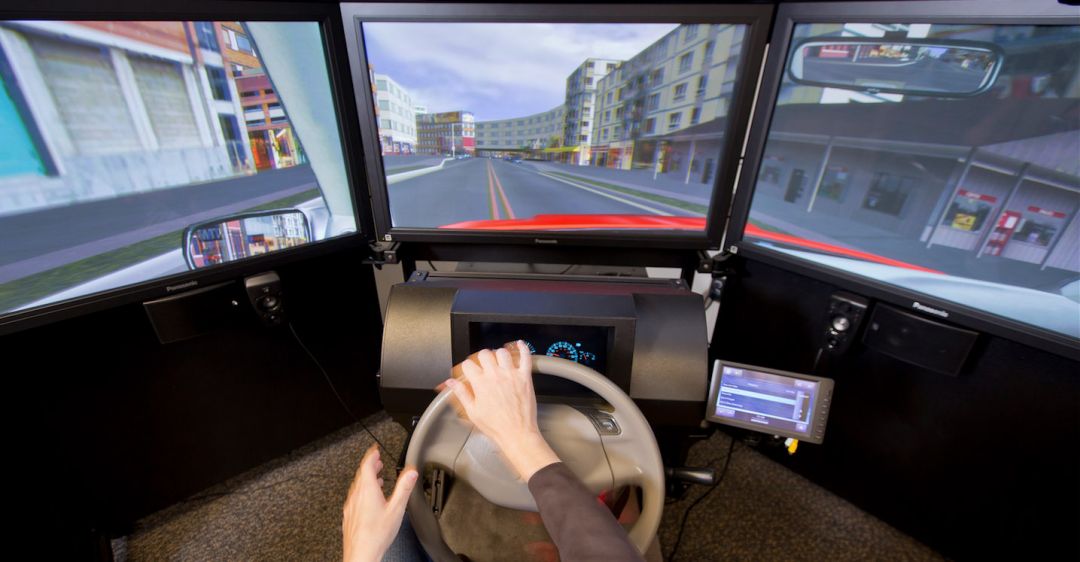 Differences in driving habits can greatly affect fuel efficiency, even with the same car. To address this, the eco-driving system from the Sonification Lab is being developed to prevent excessive fuel consumption when stopping and accelerating. It gives drivers simple data, such as bars, color displays, scores and ranges to display how "economical" a driver's behavior is. The team is developing a heads-up display for the eco information, such as a graphical overlay in the lower windshield area, and testing the influence of different display methods on driver's task performance and safety.
"This technology has a futuristic feeling - not as cool as flying cars - but it's still pretty cool. Marty could be more efficient in his DeLorean by using our technology. He has to have a lot of garbage in the compactor or lightning to get him going. With our eco-driving display, he would be able to reduce the amount of energy required to get him to the future and back."
Brittany Noah, Ph.D. student, Engineering Psychology
Giving Network Visualizations an Easier Suite of Tools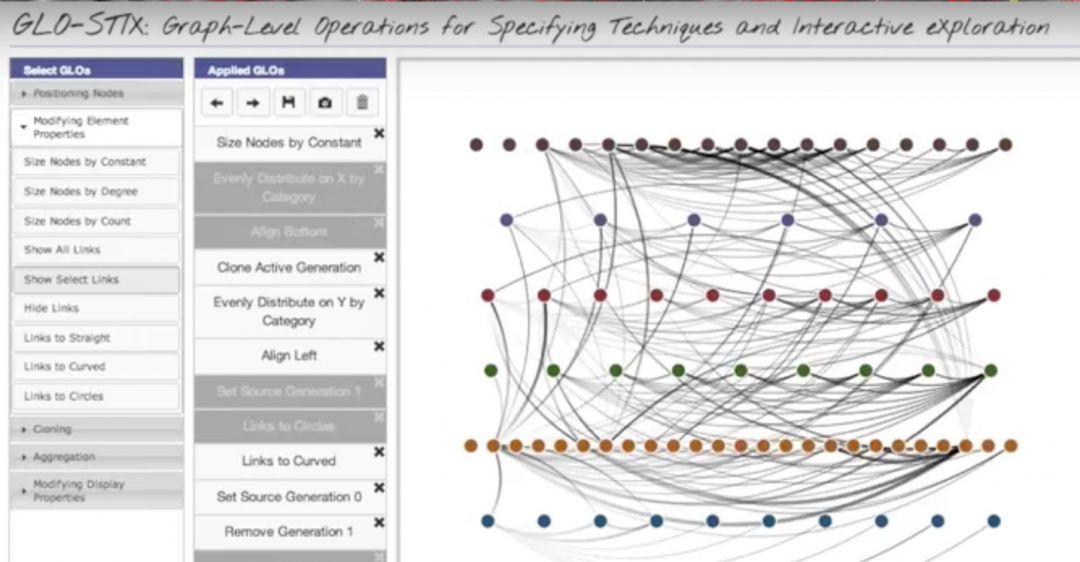 The field of graph visualization has produced a wealth of visualization techniques for accomplishing a variety of analysis tasks. To provide a holistic model for specifying network visualization techniques - as opposed to considering each technique in isolation - researchers in the Information Interfaces Group developed the Graph-Level Operations (GLO) model. The advantages of the GLO model include potentially discovering new, effective network visualization techniques and easing the engineering challenges of building multi-technique graph visualization applications. The team also built a GLO-STIX prototype system to enable analysts to interactively explore a graph by applying GLOs.
"Well one thing Marty McFly could do is he could look at this network and stratify his family tree by generation. Then he could highlight himself and see that the person hitting on him is his mother and maybe find a way to get her to stop hitting on him."
Chad Stolper, Ph.D. student, Computer Science
Using Geospatial Data to Plan Trips on Mars' Surface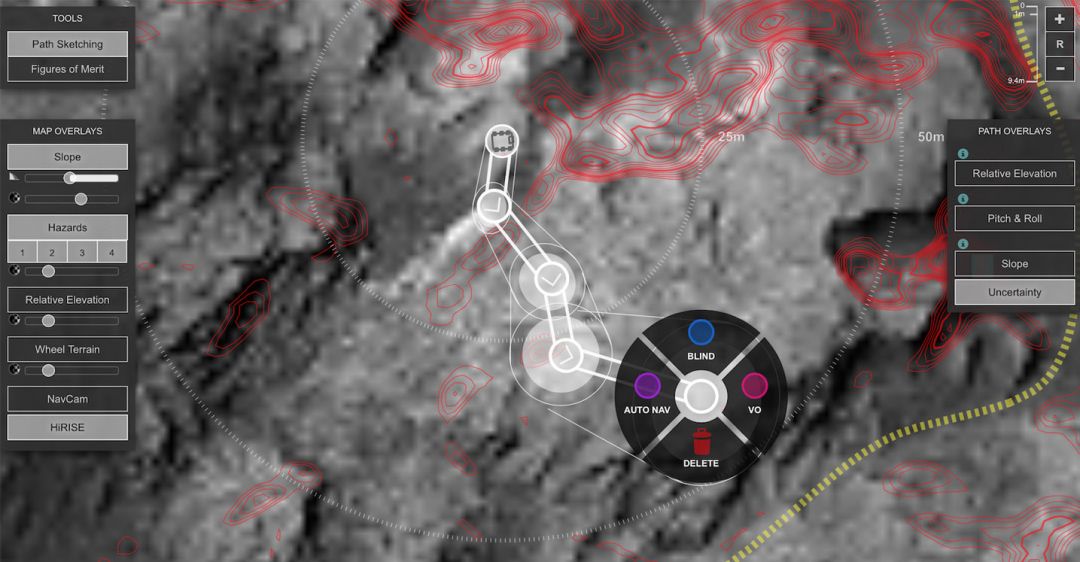 RSketch allows NASA engineers to quickly generate rover paths and analyze them visually. Developed with the Jet Propulsion Laboratory rover team, this "Google Map for Mars" would allow astronauts to plot in a course while roaming Mars' landscape and avoid taking the wrong turn at a kilometers-wide crater. The overall goal is to explore new interaction methods for rover path planning for short and long distance driving. Large, multisensor datasets covering a large portion of Mars are already available. This data would help to find an innovative, flexible, and powerful interaction paradigm for path planning. The path generation process must be influenced by traversability measures, incorporate and visualize multisensor data used for the traversability analysis, enable rapid path generation and comparison between alternatives, and export generated paths to mission operations tools.
"Marty might think it's perfect for him because on Mars, 'Where we're going, we don't need any roads!'"
John Thompson, Master's student, HCI
Writer/Flickr Images: Joshua Preston
RELATED LINKS: