Featured Projects
Atlanta has the reputation of being a "city in a forest" with a large and varied tree population that provides shade for its residents, a habitat for wildlife, consumes carbon dioxide from the atmosphere, produces life-giving oxygen, in addition to many other benefits. In keeping with its context and commitments to environmental awareness and conservancy, the Georgia Tech campus contains hundreds of species of trees that cover the landscape.
Come see the tools that we use to create one-of-a-kind research prototypes. We have everything from laser cutters and 3D printers to table saws and soldering irons, and we use them to create many of the custom electronics, cases, and wearable prototypes you see in our demos. The Prototyping Lab is located in the basement of the building, so just look for signs by the elevators to go down there, or meet by the elevators on the 2nd floor every quarter hour on the quarter hour to get a tour. View the prototyping lab's staff hours on Google Calendar:https://tinyurl.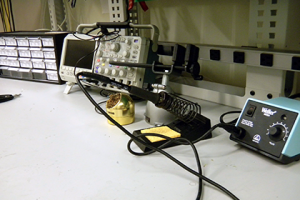 The project's goal is to help people to identify some of the variables involved in air traffic safety, and understand that air traffic safety relies on both technology and the people who control it. Hopefully, it will be illuminating to anyone concerned with air traffic safety.
GVU News
Studies have shown that passive haptic learning can help patients suffering from spinal injury. Can it also be an option in stroke recovery?

The podcast, called the Interaction Hour, is launching Tuesday, Sept. 18 and will be available on iTunes, Spotify, and Spreaker.

Georgia Tech faculty and students will travel to Munich, Germany to present their research at the European Conference on Computer Vision (ECCV).
GVU Resource Labs
App Lab
Built for Success
A mobile computing "hackerspace."
Visit the App Lab website
Location: TSRB 333
GVU Prototyping Lab
From Concept to Creation
A rapid prototyping "makerspace."
Visit the Prototyping Lab website
Location: TSRB Basement
Usability Lab
Testing Methods and Technology
An adaptable project testing space.
Location: TSRB 216