Where the Future Leads: A CHI 2017 Retrospective
by Joshua Preston | May 23, 2017
Researchers in Human-computer interaction (HCI) are embracing emerging technologies, continuing a commitment to design and accessibility, and contributing to important areas such as privacy and technology growth in developing countries.
Earlier this month, the 2017 ACM Conference on Human Factors in Computing Systems (CHI 2017) brought together more than 2,200 research authors from around the globe who are contributing to the future of HCI.
The top research advancements globally focused on virtual reality, social media, crowdsourcing and privacy. U.S. Researchers, who were on roughly half of the accepted papers at CHI, contributed prominently in other areas such as personal informatics (Seattle), usable security (Pittsburgh), accessibility (Redmond), and HCI for Development (Atlanta). Top international cities contributed to studies on dementia and health (Newcastle Upon Tyne), thermal haptics (London), digital civics (Copenhagen) and smartwatch technology (Beijing).
Learn more about the changing face of HCI and all the global contributions at this year's conference.
---

A Vision for Unlocking Human Potential
Human-Computer Interaction allows us to augment our lives and do what was unthinkable just a decade ago using personal computing devices and networked systems. Georgia Tech is a pioneering force in a new age of HCI, with research advances using creative new form factors and approaches by some of the field's leading researchers, right here in Atlanta. Take a look at some of the people and work at the institute and how they are shaping the future of global HCI research.
---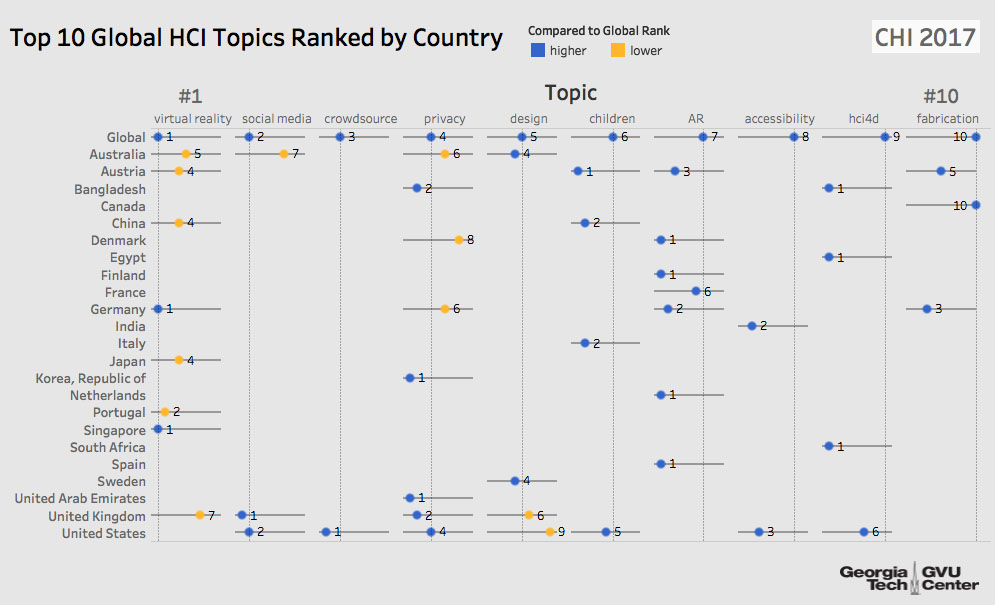 We take a look at the areas in which researchers are currently most active. Based on the Top 10 Global HCI Topics found across papers, we examine how these topics rank in each country. Research in these areas is taking place around the world, but if the topic isn't ranked in the top 10 at the national level, it is not listed. We compare whether each country has a higher or lower ranking for each of the topics as compared to the global rank.
---
Bridging the Gap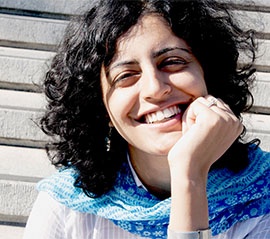 Human-Computer Interaction for Development (HCI4D) was a major research focus at CHI 2017. It was ranked 9th globally among research topics and Georgia Tech Assistant Professor Neha Kumar was this year's top author in HCI4D.
This area is focused on designing and developing technologies for under-served and under-represented populations around the world. Almost half of this year's papers involved issues in India and two looked specifically at the prospect of bringing better public access to the web in parts of the developing world, including Cuba and India. HCI4D papers tackled a range of challenges and we spotlight an important example about combating violence against women and a government mandate to mitigate the issue with an HCI solution.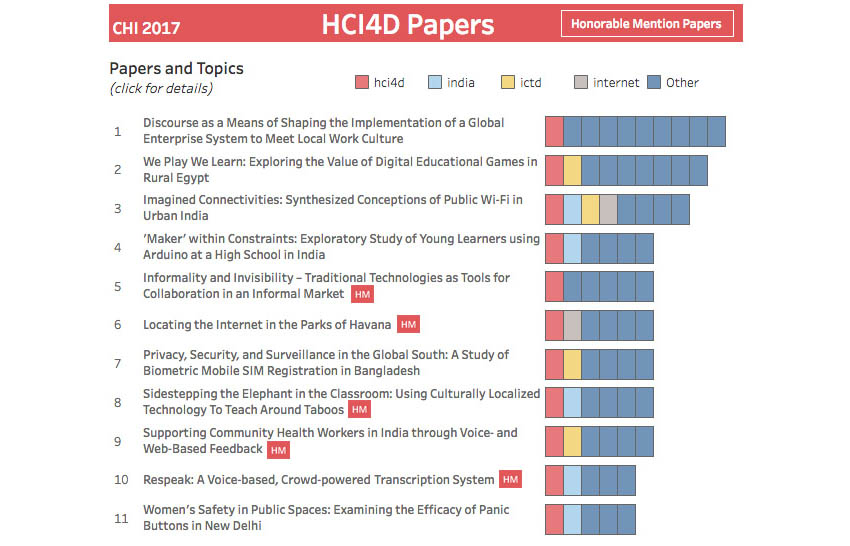 ---
CHI Academy Magnificent Seven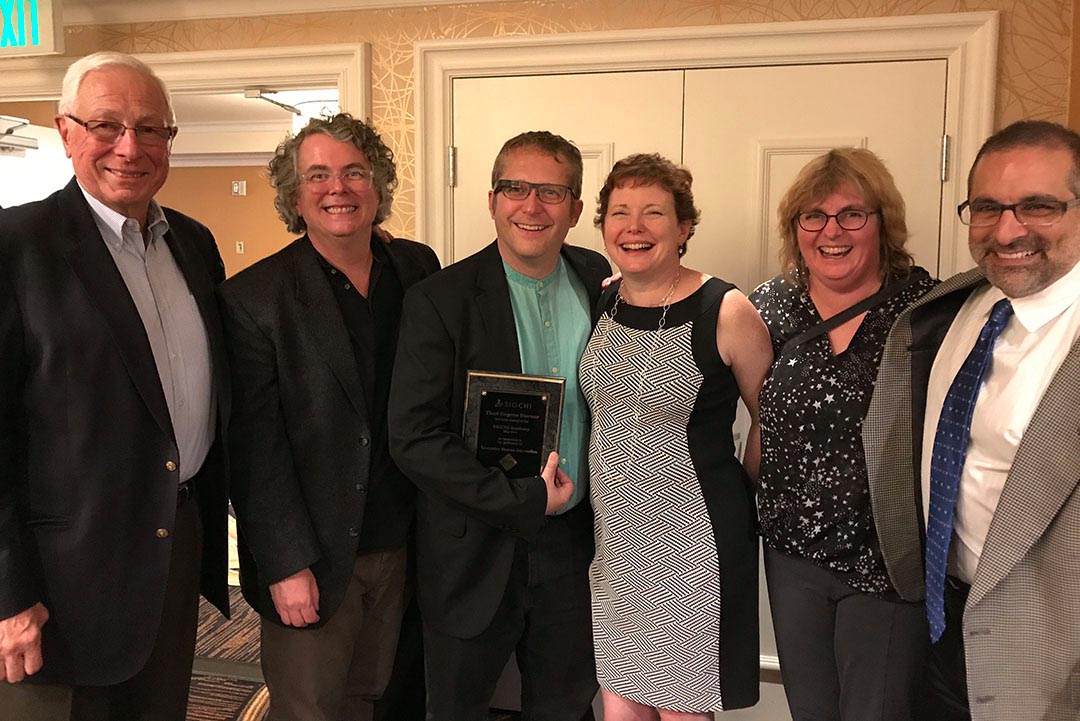 Thad Starner, a Professor in the School of Interactive Computing at the Georgia Institute of Technology, was one of the 2017 honorees to be inducted into the ACM CHI Academy this year in recognition of advancements to the field of human-computer interaction, bringing Georgia Tech's total to seven members. The CHI Academy is an honorary group of individuals who have made substantial contributions to the field of HCI. They are the principal leaders of the field, whose efforts have shaped the disciplines and industry, and led the research and innovation in human-computer interaction. Georgia Tech's seven faculty members in the CHI Academy include (l to r) Jim Foley, Keith Edwards, Thad Starner, Beth Mynatt, Beki Grinter and Gregory Abowd. (Not pictured: John Stasko)
---
The Road to Wearable Computing
Why do our bodies remain largely free of the smart tech that fills our pockets and purses? The challenges along the road to making a consumer wearable computer have been many and often took new technologies to solve.

We take a look at the field that wearable tech pioneer and newly inducted CHI Academy member Thad Starner is helping to shape. Starner is one of the curators of the exhibit Meeting the Challenge: The Path Towards a Consumer Wearable Computer, which debuted at CHI 2014 in Toronto. The exhibit subsequently showed at the World Economic Forum and the Computer History Museum. It examines how power and heat, networking, mobile input, and displays have led to new products and breakthroughs in wearable tech.

---
A Global Research Network
Advancements in HCI can be traced to the diverse teams from all over the world working together to tackle tough problems. Institutions regularly collaborate to envision and bring to life new interactions for how we use technology and ways to improve the human condition. We take a look at who's who across institutions and the partner organizations they work with.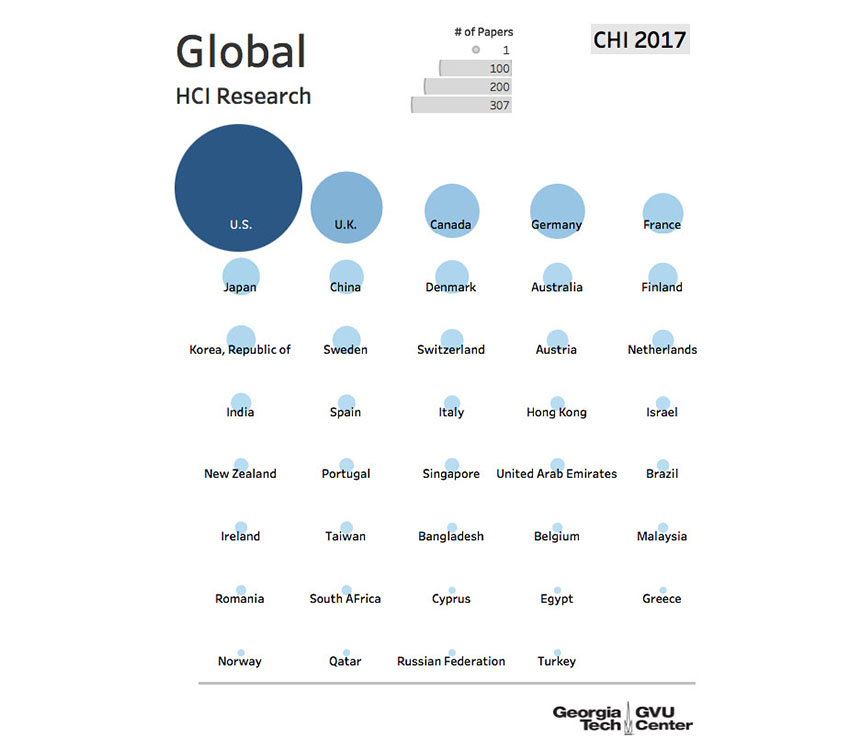 ---
GEORGIA TECH RESEARCH IN FOCUS
by Alyson Powell
Researchers from Georgia Tech and Microsoft Research conducted two studies to better understand methods for stress management and mental wellness in students. Researchers identified ways that self-tracking can be beneficial or harmful. It also looked at leveraging active and passive sensing to support student mental wellness.
by David Mitchell
Atlanta-based researchers have come up with a novel computational approach that could provide a more cost- and resource-effective way for internet communities to moderate abusive content. They call it the Bag of Communities (BoC), a technique that leverages large-scale, preexisting data from other internet communities to train an algorithm to identify abusive behavior within a separate target community.
by Jason Maderer
Using information gleaned from social media, researchers from the Georgia Institute of Technology have created a mental health index for the nation's highest-ranked colleges and universities. Their study looked at five years of data on Reddit, scanning it for comments about issues that included depression, financial and academic anxiety and thoughts of suicide. Schools were given a score based on the frequency of those threads and robustness of the conversations.