GT computing education experts present work on learning methods, broadening diversity and more
Aug. 10, 2015
The ACM International Computing Education Research Conference, ICER 2015, and the first IEEE Broadening Participation in Computing Research Conference, RESPECT 2015, take place this week and include new research by Georgia Tech faculty and graduate students from three colleges, including computing, architecture, and liberal arts.
ICER - dedicated to the study of how people understand computational processes and devices - takes place in Omaha, Nebr., Aug. 9-13. RESPECT - focused on improving diversity in the computer science education community - follows immediately, Aug. 13-14, in Charlottesville, N.C..
Mark Guzdial, professor of Interactive Computing, is co-chair of the Doctoral Consortium at ICER 2015, which set a record for most participants in a computing education doctoral consortium anywhere in the world with 20 Ph.D. students, including Georgia Tech's Barbara Ericson, Briana Morrison, and Miranda Parker. Students also represented countries such as Chile, Germany and the United Kingdom.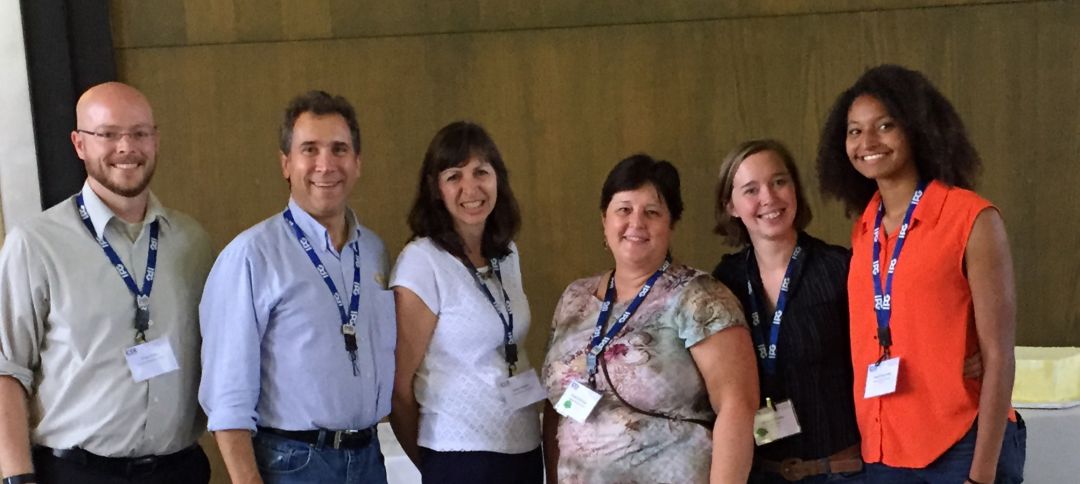 Georgia Tech @ ICER 2015 (l to r): Conference Chair Brian Dorn, PhD CS 2010; Mark Guzdial, Interactive Computing; Ph.D. HCC students Barbara Ericson, Briana Morrison, Miranda Parker, and Kayla DesPortes.
Presenting at ICER:
Papers:
Subgoals, Context, and Worked Examples in Learning Computing Problem Solving
Briana Morrison (Georgia Tech), Lauren Margulieux (Georgia Tech) and Mark Guzdial (Georgia Tech)
Analysis of Interactive Features Designed to Enhance Learning in an Ebook
Barbara Ericson (Georgia Tech), Mark Guzdial (Georgia Tech) and Briana Morrison (Georgia Tech)
Lightening Talks and Posters:
The MoveLab: Supporting Diversity through Self-Conceptions
Kayla DesPortes (Georgia Tech)
Doctoral Consortium:
Adaptive Parsons Problems with Discourse Rules
Barbara Ericson, Ph.D. HCC student; Director of Computing Outreach, ICE
Computer Science Is Different!
Briana B. Morrison, Ph.D. HCC student
Privilege and Computer Science Education: How Can we Level the Playing Field?
​Miranda Parker, Ph.D. HCC student
Presenting at RESPECT:
Papers:
Helping African American Students Pass Advanced Placement Computer Science: A Tale of Two States (1 of 4 "Exemplary" papers)
Barbara Ericson and Tom McKlin
A critical research synthesis of privilege in computing education
Miranda Parker and Mark Guzdial (short paper)
Fireside Chat:
Broadening Participation in Computing
Mark Guzdial
Lightening Talk:
EarSketch: a STEAM approach to broadening participation in Computer Science Principles
Jason Freeman, Brian Magerko, Doug Edwards, Roxanne Moore, Tom McKlin and Anna Xambó.
Exploring African-American Middle School Girls' Perceptions of Themselves as Computational Algorithmic Thinkers and Game Designers Through Reality Confessionals
Jakita Thomas, PhD CS 2006
It's All In The Mix: Leveraging food to increase Afrian-American women's persistence in Computer Science
Jakita Thomas and Yolanda Rankin
For more details about research from the Contextualized Support for Learning group: