Georgia Tech Research Finds That Web Apps for the Workplace Succeed to Varying Degrees
May 24, 2016
In an increasingly tech-oriented workplace, apps that help teams collaborate are often critical to accomplishing an organizations' goals. Some businesses and non-profits have team members who work across geographically dispersed locations, making tools for sharing and communicating even more indispensable.
Georgia Institute of Technology researchers have tested the most widely adopted free collaboration apps on the web to identify how well they work based on established design principles for interactive interfaces. They looked at freely available desktop apps for productivity and communication, and for those with paid features, only the free features were tested.
The team found overall that the 20 selected apps provided a high level of usability for the most common tasks found across workplaces, such as e-mailing, scheduling events, managing calendars and videoconferencing. The researchers tested each app by individual function, rather than as a single tool. They found that some apps with more than one function excelled in that primary area, but lagged elsewhere. Google Drive for example, scored almost perfect for its editing and writing feature (98 percent), but had some issues with sharing files (85 percent). The most common pairing was with texting/messaging functions and audiovisual/teleconferencing features. Cisco Webex, Google Hangouts and Skype all included those two features and had the highest usability scores.
When looking at single purpose apps, none of those apps, with one exception, did as well as multi-purpose apps offering the same functions. The drawing and whiteboard app Co-Sketch was the exception with an 88 percent score beating Cisco Webex's 78 percent in that area.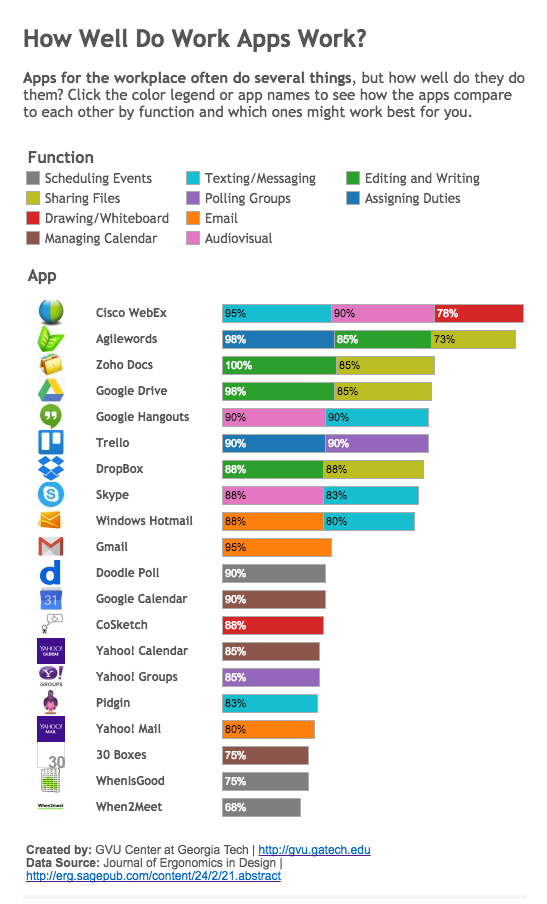 "As more people from different industries start working in the digital space, we will see tools that can serve more than one purpose and help in the migration to a technology-centered workflow," said Lauren Margulieux, lead author and recent Ph.D. graduate in Engineering Psychology.
For several of the app categories, some of the scores came as a surprise. Long-established services like e-mail had lower aggregate scores (88 percent average) than cloud tools for editing and writing (93 percent average), which are still in their infancy. When it comes to scheduling events, startups have the app space to themselves, but their combined scores–among the lowest of all the apps (78 percent average)–-indicate there is much room for improvement.
Apps for polling group members have scarce competition, with only Trello (95 percent) and the larger Yahoo! Groups (85 percent) rated. Conversely, apps for sharing files is a crowded space, but among the five rated apps, the top score was only 88 percent, given to Dropbox.
"Collaborative tasks are as varied as the users performing them, but the general functions people need to complete are often similar across tasks," says Margulieux. "We hope these results give users a better idea of what is available to them and how developers might evaluate what can make for a better collaborative experience."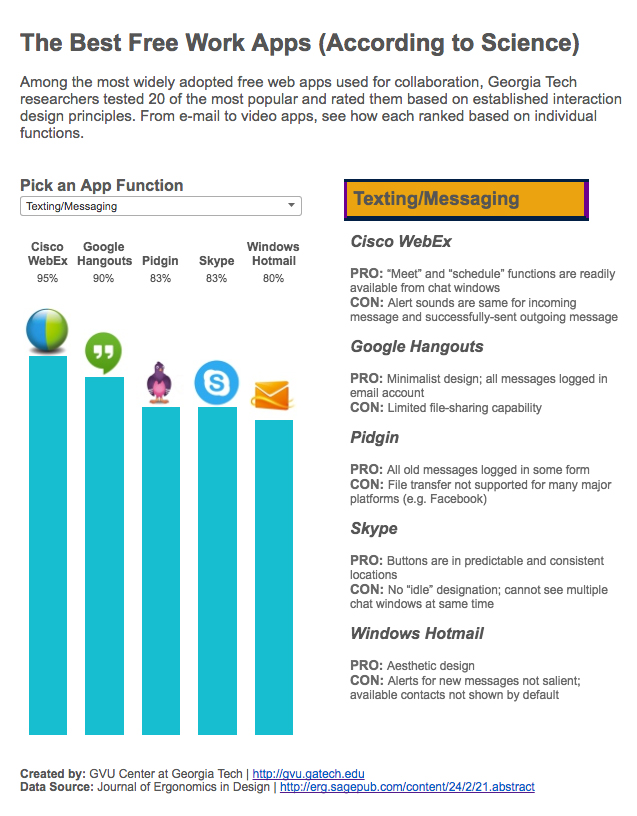 The usability scores were created by assigning one rater to each function, which was rated on a 4 point scale using 10 benchmarks, for a max score of 40 points. The benchmarks–known as Nielsen and Molich's usability heuristics–are commonly accepted standards among developers for building interactive applications. They include tests for user control and freedom, flexibility and efficiency, and design, among other areas.
The accompanying interactive graphs show a comparison of all 20 rated apps and examples of their strengths and weaknesses based on individual functions. The research "Online Collaboration Applications Evaluated Based on Ease of Use" is published in the spring 2016 Journal of Ergonomics in Design, the quarterly publication for human factors applications.
Writer/Interactive Visualizations:
Georgia Institute of Technology
GVU Center and College of Computing
678.231.0787