GVU Center 25th Anniversary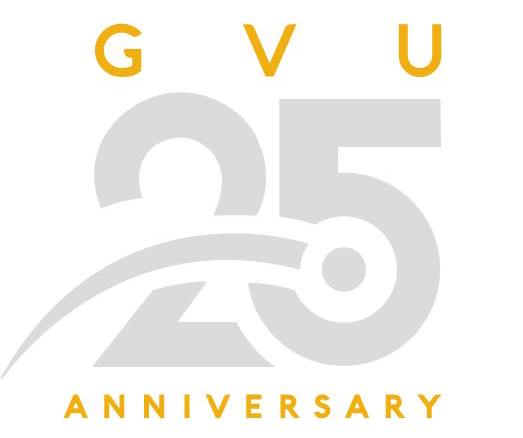 You are invited to join us this fall as we celebrate the GVU Center's 25th Anniversary and our community of researchers who are advancing globally focused computing solutions. Connect with us, explore the anniversary events below, and learn about the legacy of our research community.
The GVU Center at the Georgia Institute of Technology is dedicated to transforming computing research into innovative, relevant, and useful solutions that address the needs of people. As we celebrate 25 years in Atlanta, we continue our focus to unlock and amplify human potential through innovation in a variety of interactive computing techniques. Our community of researchers from across Georgia Tech's six colleges embody a unique collaborative spirit, one that fosters dynamic, interdisciplinary teams able to address complex human challenges.
Anniversary Program (Oct. 18-19, 2017)
Technology Square Research Building, 1st Floor Banquet Area
Wednesday, October 18
9:30 a.m. - 10 a.m.
Registration
10 a.m.
Welcome
10:15 a.m. - 11 a.m.
Reflections on 25 years and Future Directions
Keith Edwards, GVU Center Director
11 a.m. - 12 p.m.
Keynote Speaker - The Future is not What it Used to be: Taking Advantage of the new Future for Interactive Technology
Scott Hudson, Human-Computer Interaction Institute, Carnegie Mellon University
12:30 p.m. - 1:45 p.m.
Impact Awards Presentations and Lunch
2 p.m. - 5 p.m.
GVU Center Research Showcase (TSRB 3rd Floor registration)
Thursday, October 19
11:30 a.m. - 1 p.m.
Distinguished Alum Brownbag Seminar
Jennifer Mankoff, University of Washington
Opening Ceremonies
Title: Reflections on 25 years and Future Directions
Keith Edwards is a Professor in the College of Computing at Georgia Tech and Director of the GVU Center. His research interests focus primarily on driving human-centered concerns into core computing infrastructure. He is a pioneer in the exploration of human-centered perspectives on computer networking, particularly in the home and has been active in developing more usable approaches to information security systems. Lately, his research has expanded into a number of explorations of the social impacts of computing technology, and understanding how technology can support the work of non-profits and NGOs. While he is a technologist at heart, he enjoys working with designers, as well as ethnographers and other social scientists.
Keynote Speaker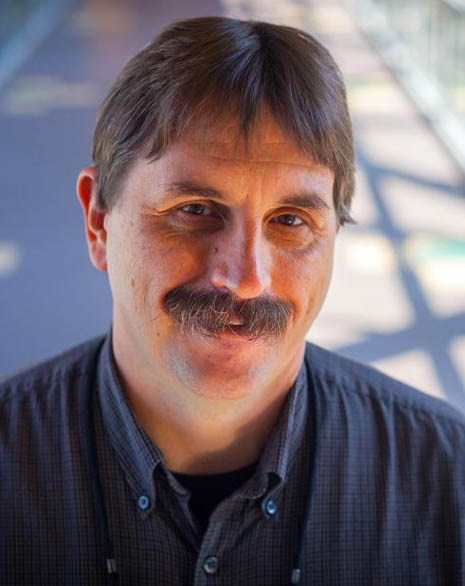 Title: The Future is not What it Used to be: Taking Advantage of the new Future for Interactive Technology
Abstract: A lot has changed in technology and interaction over the last 25 years, and yet a lot has stayed the same. This talk will consider factors that have changed and not changed, and suggest ways in which the big changes should be exploited to address both old and new problems -- ways in which we might be thinking differently about research challenges for interactive technology in this "new future".
Scott Hudson is a Professor in the Human-Computer Interaction Institute within the School of Computer Science at Carnegie Mellon University where he serves as the founding director of the HCII PhD program. He was previously an Associate Professor in the College of Computing at the Georgia Institute of Technology. He earned his Ph.D. in Computer Science at the University of Colorado in 1986. Elected to the CHI Academy in 2006, he has published over 150 technical papers. He has regularly served on program committees for the SIGCHI and UIST conferences, served as papers co-chair for CHI '09, and again for CHI '10. He has previously served as Program Chair for UIST '90 and UIST '00, as well as Symposium Chair for UIST '93 and the founding UIST Doctoral Symposium chair from 2003 to 2005. He also served as a founding Associate Editor for ACM Transactions on Computer Human Interaction. His recent research funding has been from the National Science Foundation, Microsoft, and Disney Research.
GVU Distinguished Alum Brownbag Speaker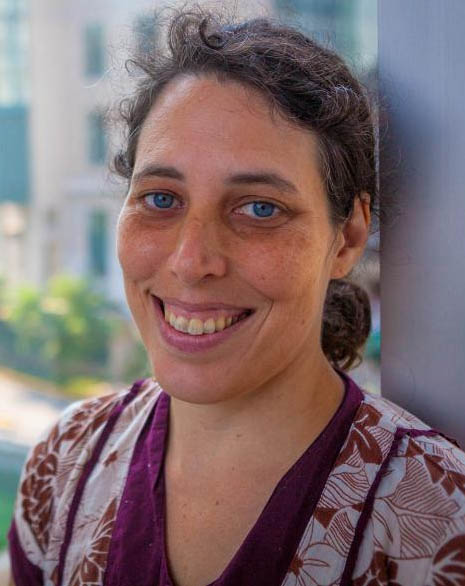 Title: Fabricating Accessibility
Abstract: With the increasing power and flexibility of technologies available to consumers, we are seeing a revolution in how assistive technology (AT) is being created and by whom. This talk will highlight the potential of these technologies for people with disabilities, as well as the challenges that end users face in leveraging them effectively to address AT issues. I will touch on issues around process, materials, design and followup. In each case, there are a host of open problems that can benefit from computational methods and better tools.
Speaker: Jennifer Mankoff is the Ladner Professor in the Allen School of Computer Science & Engineering at the University of Washington. Her research areas include HCI, Fabrication, Ubicomp, Diversity, and Accessibility. Jennifer applies a human-centered perspective to data-driven applications by combining empirical methods and technical innovation to solve pressing social problems in areas such as accessibility, health and sustainability. Integrating computational approaches with human-centered analytics, she develops tools that can influence energy saving behavior, provide support for individuals with chronic illnesses and design 3D-printed assistive technologies for people with disabilities. She runs the make4a11 group, which can be found on twitter (@make4a11) and online at http://make4a11.org. Jennifer received her PhD at Georgia Tech, advised by Gregory Abowd and Scott Hudson, and her B.A. from Oberlin College. Her previous faculty positions include UC Berkeley's EECS department and Carnegie Mellon's HCI Institute. Jennifer has been recognized with an Alfred P. Sloan Fellowship, IBM Faculty Fellowship and Best Paper awards from ASSETS, CHI and Mobile HCI. Some supporters of her research include Autodesk, Google Inc., the Intel Corporation, IBM, Hewlett-Packard, Microsoft Corporation and the National Science Foundation.
GVU Center Fall Anniversary Events
Georgia Tech juried projects in ACCelerate Festival at Smithsonian

The GVU Center's Brown Bag Seminar Series will give a special preview of Georgia Tech's juried projects accepted into the ACCelerate Creativity and Innovation Festival taking place Oct. 13-15, 2017, at the Smithsonian National Museum of American History in Washington, DC.
The festival, a gathering of all institutions in the Atlantic Coast Conference (ACC), features performances, conversational talks, and 48 interactive installations from the 15 ACC schools and is centered on science, engineering, art, and design. Selected from among 35 Georgia Tech submissions juried by the ACC Festival Committee, the institute's four projects represent work by Georgia Tech students, faculty, and researchers who are crossing traditional boundaries to develop new possibilities for exploration, expression, and creativity. After the D.C. festival, the projects will return as a special addition to the GVU Center Research Showcase on Oct. 18 in Atlanta at Tech Square.
Each of the ACCelerate projects will be previewed ahead of the GVU Brown Bag speaker series on the following dates:
The Electrocet project started with the idea that you shouldn't have to buy a sports car or an electric vehicle or a commuter car - there should be a car that can excel in all driving scenarios, just by selecting the right drive mode. The Electrocet is a proof-of-concept vehicle for a super-versatile electric powertrain system that can deliver electric-only commuting, superb fuel economy, and thrilling acceleration. Students made everything: the frame, suspension, and drivetrain. The car is a bold concept for the future of automotive powertrain design. Participants: Ben Horst, Josh Preissle, and Alex Gray
LuminAI (September 21)
LuminAI is a dome-based art installation in which participants can engage in collaborative movement improvisation with each other and virtual AI-based dance partners. Rather than focus on the human as master creator and the computer as the traditional "support tool" - LuminAI examines how humans and machines can co-create experiences together. As a result, the LuminAI installation is a movement-based play space where participants can freely dance with AI-based characters. The virtual agents analyze participant movements and improvise responses; in other words, the agents learn how to dance by dancing with us. For space considerations, the interactive experience at the festival will utilize a large shadow screen. Participants: Brian Magerko, Duri Long, and Mikhail Jacob.
Georgia Tech technologists collaborated with artist Katherine H. Fisher to build an interactive garment that engages audience participation in her performance piece Characters. The garment "Le Monstre" is a fun "fraggle rock" type creation that includes touch sensors, stretch sensors, distance sensors, and accelerometers. The creation of this project offered opportunities for artists to learn about engineering and technology creative processes, while also allowing experts in engineering and technology to see first-hand what artists need to relate to broad audiences in site-specific locations in their process and practice. At the festival, the garment will be on display with interactive capabilities. Participants: Clint Zeagler, Laura Levy, Katherine Helen Fisher, and Shimmy Boyle
RIB CAGE is an electro-acoustic instrument that incorporates elements of robotics. This instrument is designed to explore the relationship between human and robot co-performing in a single instrument. Through the use of robotics, the interactive aspect of the instrument is made physical and visible. The metaphor for this instrument is a rib cage (3D printed plastic ribs) with spines (aluminum bars) and a heart (solenoid and red LED). The human musician performs on the 3D printed rib cage as well as the aluminum bars while the robotic component hits the aluminum bars. The human's performance on the instrument affects how the robotic components interact, and this robotic interaction is intended to affect and inspire the performer. The instrument is designed for performing experimental percussive music as well as drone and noise music. Participant: Takumi Ogata
Funding for Georgia Tech's participation in the ACCelerate Festival is generously provided by the Georgia Tech Division of Student Life and the Office of the Arts, the George W. Woodruff School of Mechanical Engineering, the Georgia Tech Parents Fund, and Marion and Gail Glover.
Georgia Tech's participation in the festival is coordinated by the Office of the Arts. For more information please contact Es Famojure at 404-385-4845.
October 18, 2017, 2-5 p.m.
Technology Square Research Building
The GVU Center invites you to experience Georgia Tech research in people-centered technology that enhances our communities and impacts how we live day-to-day. More than 100 interactive projects will let you touch, control and imagine what technology will enable in the future.
Our relationship with personal technology and how we use it is evolving. Research through our interdisciplinary teams shows the opportunities that exist for technology to address long-standing societal challenges and how we can make new connections to advance our lives and those of others.
Nostalgic Futures: 25 Years of Creating Tomorrow
October 18, 2017, 2-5 p.m.
Technology Square Research Building
Remember what the future was supposed to be like? How does that future compare to today? As GVU turns 25 in October, a special exhibition will highlight and archive some of the scientific and technological milestones from the center's rich history.
GVU researchers have consistently demonstrated being on the cutting edge of technology and interaction research, and many of the projects coming from GVU have had embedded assumptions about the direction technology would evolve. Foley Scholar Clint Zeagler and his team are building a small interactive exhibit of historical projects for display on Oct. 18 during the GVU Center Research Showcase. These systems will be restored with documentation from the original researchers and using current materials and technology while maintaining the integrity and spirit of the original technology.
The GVU community is encouraged to submit materials for consideration and experience a nostalgic future on Oct. 18.
GVU Distinguished Lecture
October 19, 2017, 3 p.m.
TSRB Banquet Hall
Conversational AI: Voice-based intelligent agents
Abstract: As we move from the dominance of the keyboard, to that of touch screens, and now to the age of voice interaction with technology, natural conversation in everyday language continues to be one of the ultimate challenges for AI. This is a difficult scientific problem involving knowledge acquisition, natural language understanding, natural language generation, context modeling, commonsense reasoning and dialog planning, as well as a complex product design problem involving user experience and conversational engagement. I will talk about why Conversational AI is hard, how conversational agents like Amazon Alexa understand and respond to voice interactions, how you can leverage these technologies for your own applications, and the challenges that still remain.
Ashwin Ram is Senior Manager of AI Science for Alexa, the intelligent agent that powers Amazon Echo and other devices. He leads R&D initiatives to create advanced technologies for conversational agents, including the university-facing Alexa Prize competition. Ram is a distinguished artificial intelligence (AI) researcher and entrepreneur. He managed the Interactive Intelligence research area at PARC, leading a team to invent new behavior change technologies to help people adopt healthier lifestyles. He was a professor in the College of Computing at Georgia Tech and director of the Cognitive Computing Lab, and is now an adjunct professor there. He has co-founded multiple startups, including OpenStudy (acquired by Brainly), an online social learning network, and Enkia (acquired by Sentiment360), which developed AI software for social media applications. He received his PhD from Yale University in 1989, his MS from University of Illinois in 1984, and his BTech from IIT Delhi in 1982. He has published 2 books and over 100 scientific articles in international forums. He is a closet anthropologist and loves travel, people and culture.