GVU30 Interactive Installations | Nov 2, 2022, 10-11 a.m. & 2-5 p.m.
Technology Square Research Building
---
GTGraffiti Robot
Gerry Chen, Juan-Diego Florez, Frank Dellaert, Seth Hutchinson, Sang-won Leigh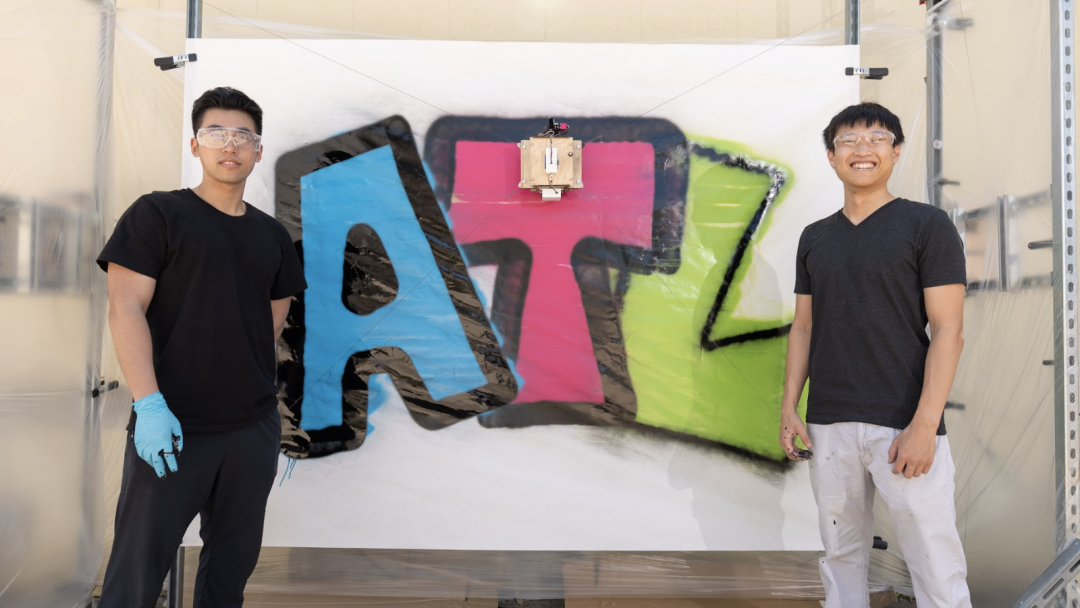 We invite you to create your own graffiti artwork using GTGraffiti: an interactive spray painting robot. In this exhibit, we present a cable-based robot that can spray paint on an 10' x 8' canvas. Audience members have the opportunity to control the robot using a drawing tablet (iPad), joystick control, and/or text-based input, and paintings generated by the cable robot will be painted on 6ft wide paper that participants can take home! Our research focuses on transforming artist sketch inputs into graffiti stylized paintings that GTGraffiti is capable of rendering in spray paint. Our work can be applied not only to artistic preservation, magnification, and improvisation, but more generally to developing robots that can replicate other human skills such as cooking and cleaning. Come experience for yourself the challenge of transforming human intents into robot motions.
---
Heart Sense: Fostering Social Connectedness Through Physiologically-Informed Design
Sylvia Janicki, Aditya Anupam, Nassim Parvin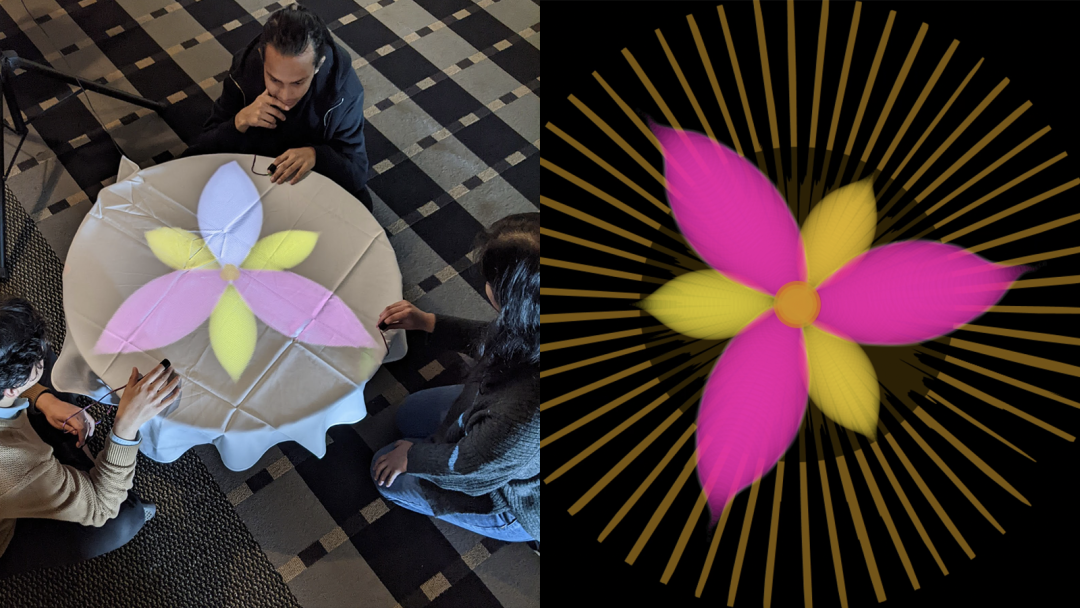 Heart Sense brings together humanities and physiology scholars to create an art installation that uses representation, tracking, and visualizations of physiological data to investigate and reflect upon the body in ways that depart from quantitative self and spur curiosity about scientific measurements. Specifically, this installation engages the social dimension of embodiment through the mediation of the physical environment. Participants are invited to sit around a table and are given headphones to listen to music. A floral visualization representing the collective heart rates of the participants will be projected onto the table, the size and the colors of each petal shifting with changes in each participant's body. The visualization showcases how our bodies come into relation with each other and are in and of the environment, as they respond to our surrounding conditions even when we are not aware of it.
---
Button Portraits: Embodying Queer History with Interactive Wearable Artifacts
Alexandra Teixeira Riggs, Terra-Mae Gasque, Anne Sullivan, Noura Howell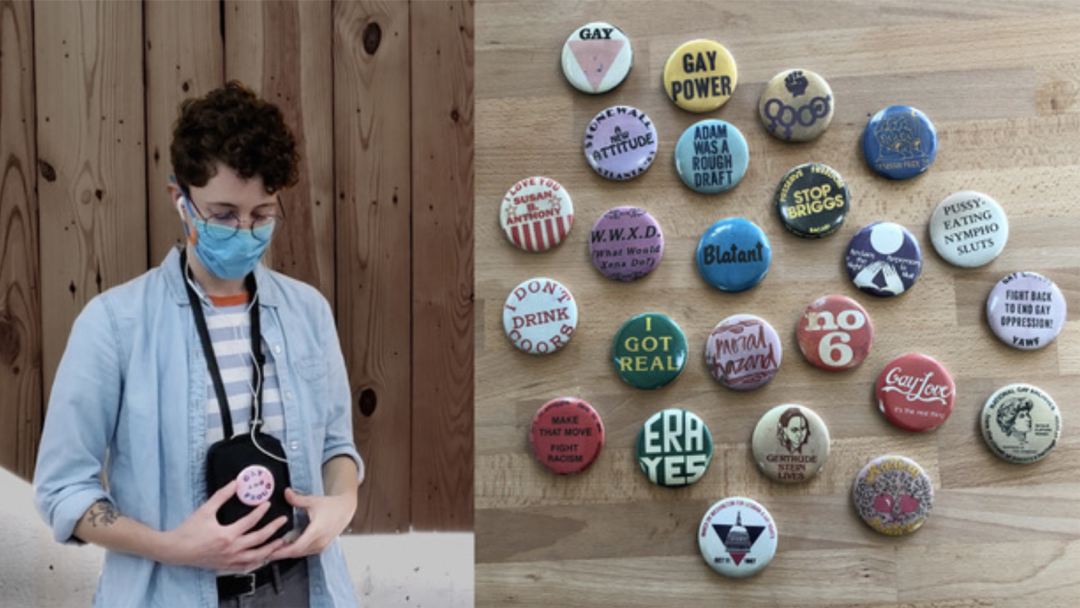 "Button Portraits: Embodying Queer History with Interactive Wearable Artifacts" is a tangible narrative that represents queer history using artifacts from the Gender and Sexuality Collection at Georgia State University. The experience tells the stories of queer activists, Lorraine Fontana and Maria Helena Dolan, who influenced and produced Atlanta's patchwork of LGBTQ+ organizations from the mid 1970s to the present, using replicas of the activists' own button artifacts as vehicles through which to experience their stories. In the piece, placing a button on a wearable audio player will play a unique fragment of oral history and show corresponding archival photographs on a connected mirror screen. This gesture of holding a button to your chest, pinning it, and intimately listening to an interview with the button's original owner serves to not only implicate participants in history, but also to reframe our relationships to stories through attention to the bodily experience. As a case study, the project offers insights on how wearability, embodiment, and queer archival methods can shape the design and experience of tangible historical narratives and their ability to call for reflection on our relationships to archival materials and history.
---
Sensing Bodies: Reflections on Human-Plant Interactions
Sylvia Janicki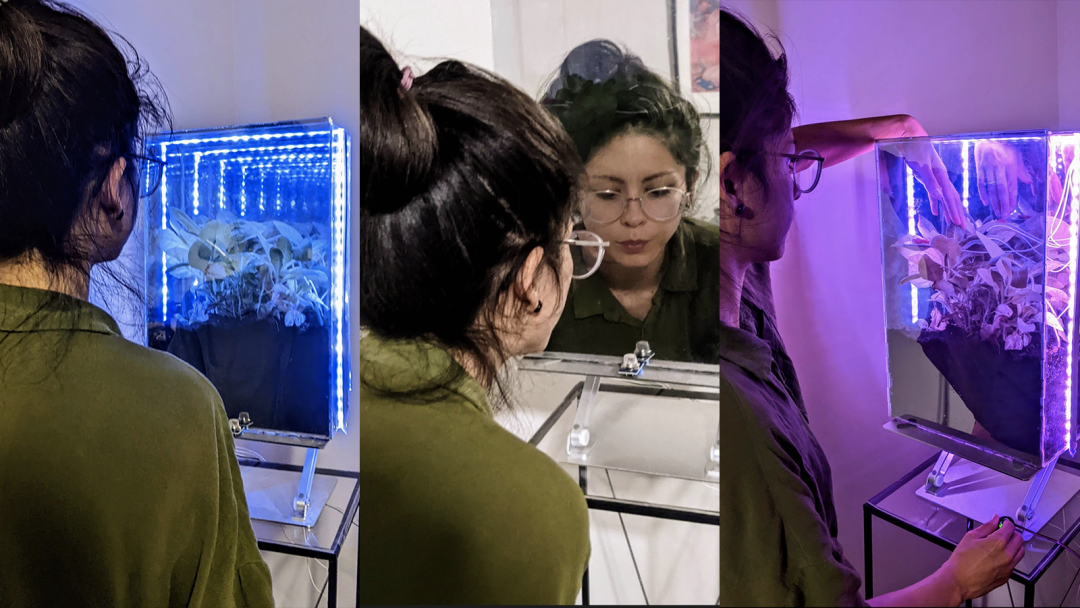 Sensing Bodies is an artistic installation consisting of a series of three interactive exhibits that foreground relationships between a human and plant. The relationships are formed through unique reciprocal interactions, in which the biodata of both the human and plant bodies are collected through sensors, processed through circuits and algorithms, and represented through LED displays. The exhibits highlight our embodied encounters as co-constructed and interdependent with more-than-human agencies, pointing to an interspecies intimacy. However, the form of each exhibit, which displays plants inside an illuminated plexiglass box - bounded, framed, and removed from context - is intentionally evocative of a screen. As such, the installation not only invites reflection on our connection to non-human bodies, but also probes a disconnection to the living, local landscapes around us and their sociopolitical entanglements.
---
Community Garden
Jordan Graves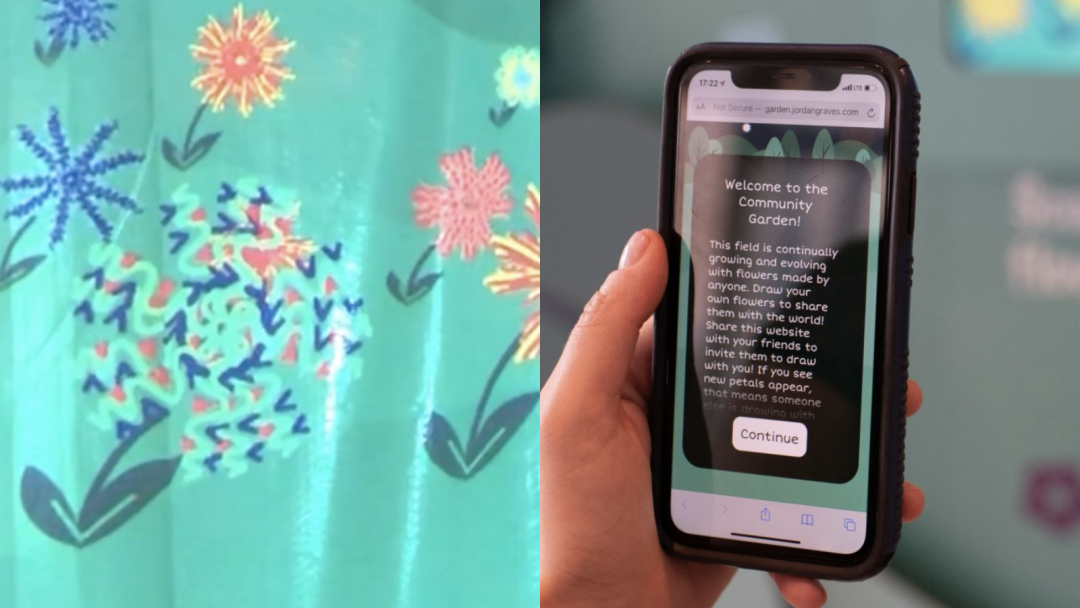 Community Garden is an immersive, digital installation where participants are invited to draw and plant a flower via the installation website: https://communitygarden.jordangraves.com . With a simple swipe, the flower appears in a publicly projected field of flowers. These flowers also appear in real-time on the installation website, allowing people across many locations to add to the collection and connect to one another through this shared experience. Inspired by the Children's Museum of Pittsburgh's exhibits about kindness, Jordan Graves partnered with the Museum to develop the concept into a full immersive experience that brings the digital experience into the physical world. The installation at GVU will be a new sculptural iteration that brings participants' drawings to life beyond a traditional screen.
---
EcoCommons Data Physicalization
Yanni Loukissas
Come see a preview of the Eco Data Physicalization, which will explore the relationship between the GT EcoCommons and the Chattahoochee River, which starts in North Georgia and flows into Florida's Apalachicola Bay. The importance of the Chattahoochee's health cannot be overstated. It is a refuge for wildlife, a recreational area, and a source of water for domestic, industrial, and agricultural uses, as well as electric power. As part of the Chattahoochee watershed, our campus stormwater runs directly to the river, carrying pollutants that can impact the entire region. Our campus may look self-contained, but it is part of a much larger ecological system. The EcoCommons was built to reuse stormwater on campus, and limit the contamination of the river. Using data physicalization as a form of inquiry, the project will help our community explore its changing relationship with an extended environmental system that is immense, but fragile and nearly invisible from within the campus.
---
Red Dyke Room
Terra-Mae Gasque, Alexandra Teixeira Riggs, Rachel K Donley, Anne Sullivan
We invite you to visit this interactive room in which you can discover and relate to queer archives through tangible interaction and puzzles. Inspired by and using archival materials from the Red Dyke Theatre, a lesbian theater group founded in the early 1970s, the project will allows viewers to immerse themselves within a physical, narrative experience of the group's activities from 1972- 1978. The installation uses tangible physical interactions to illuminate archival materials such as show notes, stage programs, photographs, and props, in order to unlock narratives about queer identity, community, and belonging in 1970s Atlanta.
---
AI Meets Pepper's Ghost: A Co-Creative Dance Experience
Milka Trajkova, Brian Magerko
Experience modern improvisational dance between humans and AI partners. This installation offers a glimpse of how the LuminAI system works in real- time, creating an experience of a dancer interacting with the AI agent through a captivating Pepper's Ghost illusion. Through this space, audience members will be able to experience dance technology in a unique and engaging way, inducing conversations about the limitless applications of dance and technology in the realms of learning, training, and creativity.