Faculty:
Noah Posner, Miroslav Malesevic
In a world where we spend a large portion of our day looking at screens, creating things on screens, and showing others things on screens we have slowly lost our interaction with the 3D world. At the IMAGINE lab we create 3D models of the entire GT campus for renders, visualization, and analysis but we also make the effort to go a step further and bring them back into the real world. With the improvement in quality and reduction in cost it is now possible to have 3D printers on our own desk top. These allow us to free our designs from the confines of the computer and let us hold them in our hand. Whether it is to understand the placement of a future campus building, show a group of students a project site, validate the accuracy of a digital model, or just hold a piece of Georgia Tech tradition in our hand, the ability to quickly, cheaply, and accurately create a physical model of a campus building allows more people to understand and enjoy the work that we do.
In order to create the models which we 3D print or create through other methods we utilize two main methods, modeling from reference and photogrammetry. Modeling from reference is primarily manual modeling process but leverages photographs, lidar data, known measurements, and existing 3D content to create a model. Although this take time, it allows to have total control over the geometry and produces optimized, efficient, and easily 3D printable models. Photogrammetry is an automated process that uses special software to combine a series of photographs of and object from different angles into a single highly accurate 3D model. We use this technique to generate terrain maps from aerial photography and we can recreate campus sculptures using photos from a phone. Although manual cleanup of the created model is required it allows us to recreate recognizable campus elements that would be difficult to model.
Having things that you can hold in your hand can communicate, inspire, and delight in ways that are just not possible with purely digital content. We are always looking for new applications of this technology which we can use to bring information and joy to the people who view and interact with our work.
Lab: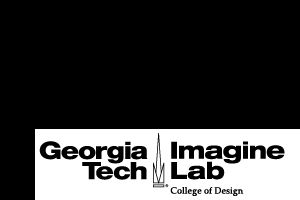 Faculty:
Noah Posner, Miroslav Malesevic
The IMAGINE (Interactive Media Architecture Group in Education) Lab is composed of a group of researchers and students with a mission of serving the Architecture/Engineering/Construction (AEC) community by: 1. Providing exemplary applications of cutting edge, architectural visualization and interaction technologies. 2. Preparing students in the use of these technologies. IMAGINE realizes the benefits and potential of integrating research and education. The staff members of the IMAGINE Lab offer courses in architectural visualization and physical interaction. Student members are actively involved in applied, sponsored projects that are related to the lab's research interests. The IMAGINE Lab maintains 3D models of the Georgia Tech campus and sourounding area for the use by students, staff and faculty.