The goal of the research is to identify the ways in which social media could play a role in assisting Georgia Tech students to find mental health support. Mental health disorders are extremely prevalent on college campuses, and anxiety and depression, in particular, have been shown to have a negative effect on academic success. Despite the fact that mental health professionals and program are available to students with mental health conditions, many are not seeking help from their campus resources. Social support is a key component in preventing mental health issues from becoming serious problems, and it has been shown to be a top factor in preventing suicide attempts. By examining the mental health status of current Georgia Tech students as well as their social media usage and behavior, the proposed project aims to discover how a social platform could be used to provide social support to Tech students facing mental health issues.
Lab: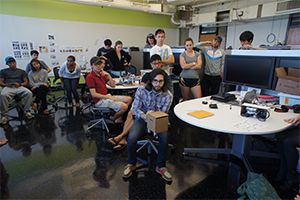 Faculty:
Richard Henneman, Carrie Bruce
Students in Georgia Tech's interdisciplinary MS in Human-Computer Interaction program do multiple group class projects, and a capstone individual project. Some projects are presented as part of other labs listed here; others are showcased in the MS-HCI Project Lab.
The two-year program spans four schools: Industrial Design; Interactive Computing; Literature, Media and Communications (Digital Media Program); and Psychology. Approximately 50 new students enroll each fall semester.