Faculty:
Leigh McCook, Nick Mulkey, GTRI
GTRI developed a solution whereby a caseworker can discretely push a button that will enable their phones to call out to their supervisors and public safety whenever in a situation that is escalating and may be dangerous for the case worker and/or family. The solution, called ClickSafe, is now being piloted in DFCS Region 4. The caseworker carries a button (either on their badge, in their purse, or pocket) that they can press and hold that will enable the ClickSafe app to dial a call center and inform them that the caseworker is in a potentially dangerous situation.  The supervisor will have information such as descrption of the caseworker, address where the caseworker is supposed to be, and details of the visit that can be provided to law enforcement. The call center will then deploy public safety to the site.
Lab: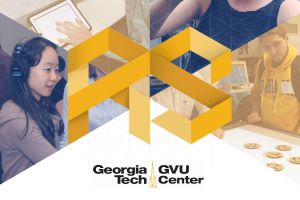 Any research projects that don't have a permanent lab affiliation with GVU and are participating in the GVU Center Research Showcase will display their projects here. These projects are by researchers who are partnering with GVU to showcase their work in people-centered computing or using computing technology to solve scientific, social and technical challenges.
Faculty can request at any time to have their lab listed on the GVU website by emailing gvu@cc.gatech.edu.