Students:
Vanessa Lin, Aayahna Herbert
Dog agility is a sport in which dogs are evaluated based on their ability to navigate through obstacles with precision and speed under the direction of their handlers. While dog agility has been an increasingly popular sport worldwide, the injury rate among agility competitors has also risen over the years. Despite the increase in injury rates among agility dogs, little is known about the risk factors associated with the injuries. Existing studies on canine agility injuries are based on retrospective surveys or video reviews. However, retrospective surveys present significant limitations to injury evaluation and prevention - they are unable to assess factors such as speed, the intensity of acceleration and acceleration, number of repetitions, as well as intensity of training sessions, all of which have been identified as factors of injury for human athletes.
Wearable technology for human physical exercises has been extensively studied and developed, in order to assist in training load monitoring in recent years. On the other hand, no studies have been conducted for the evaluation of canine athlete training load. While mindful trainers may keep track of the length of their training sessions, trainers may not be able to determine the amount of physical stress the dogs are experiencing by simple observation. Human wearable devices may provide a model for canine athletic tracking and monitoring, and provide an option for prospective studies on canine athlete training load, training factors, and injury development. Developing tools to capture real-time data and evaluating these variables is critical in improving the health of agility dogs, as well as the safety of all canine sports.
Agility handlers need a reliable, accurate way to measure and monitor athlete activity to help reduce the high incidence of injury in agility dogs. Through this project, we hope to help develop a canine-wearable system to recognize agility activity in order to lay the groundwork for creating a user interface that can measure training workload, speed, fatigue, and other parameters to evaluate relation to injury risk and target injury prevention strategies.
Lab: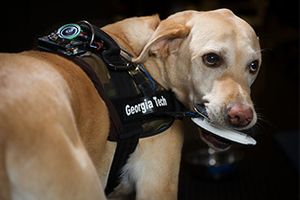 Faculty:
Melody Jackson, Thad Starner, Clint Zeagler, Scott Gilliland
Students:
Giancarlo Valentin, Larry Freil, Ceara Byrne, Jacob Logas, Shuyi Sun, Sarah Storer, Kristen Lee, Marcia Schulman, Amanda Schmitt
We explore the emerging area of Animal-Computer Interaction focusing on interfaces for inter-species communication and on the design and evaluation of interactive technology for users of multiple species.