Athletes frequently get injured and often need to undergo a difficult physical therapy process to return to recover. Participation in recommended home exercises is low due to their repetitive nature. Staying motivated and consistently practicing their exercises speeds recovery.
We focus on how to use technology to motivate and guide athletes through basic balance exercises that are often required after lower leg injuries, such as ankle sprains and ligament tears. Our solution is a 2D platformer game that takes in input through the Wii balance board, requiring different balance exercises. 
Lab: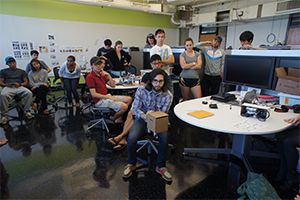 Faculty:
Richard Henneman, Carrie Bruce
Students in Georgia Tech's interdisciplinary MS in Human-Computer Interaction program do multiple group class projects, and a capstone individual project. Some projects are presented as part of other labs listed here; others are showcased in the MS-HCI Project Lab.
The two-year program spans four schools: Industrial Design; Interactive Computing; Literature, Media and Communications (Digital Media Program); and Psychology. Approximately 50 new students enroll each fall semester.