Faculty:
Keith Edwards, Eric Gilbert
Modern social media do a remarkable job of keeping friends and families connected-often across the globe. Yet, these same systems also overlook the communities and neighborhoods where we live our daily lives. In this paper, we present BlockParty, a platform for building hyper-local social computing applications aimed at neighborhoods. A key feature of our platform is that it runs on top of residential wireless routers via an underlying mesh network. Using BlockParty, people can socialize with their neighbors and share resources, without their data ever leaving their local community. The goal of BlockParty is to enable new forms of neighborhood-oriented social computing applications that encourage the creation of local ties and local social capital.
Lab: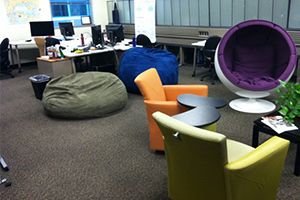 The comp.social lab focuses on the design and analysis of social media. According to their website they "like puppies, mixed methods and new students (particularly MS)."