Students:
Olufunke Adebola, Bence Kollanyi, Amanda Meng, Thomas Smyth
The Content Aggregation System for Election Observation (CASE) will aggregate real-time election observation data from formal observer missions and social media sources. Our new system, combining the power of crowdsourced data from social media with the precision of formal observers in the field, will create a first-ever fully integrated monitoring system. Simple technical interfaces will allow users to share particular information in real-time while still maintaining necessary data security and privacy. An integrated visual dashboard will allow all project participants to view, analyze and understand real-time data from social media fully integrated with real-time data from participating formal observer groups. The system will be test deployed in 2014 and fully deployed during the 2015 Nigerian national election.
Lab: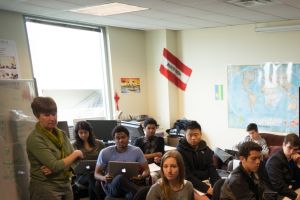 Students:
Harshil Shah, John D Britti, Daniel Nkemelu, Amy Chen, Saira Poonnen, Ciabhan Connelly, Arpit Mathur, Lillie Zhou, Max Karpawich, Matthew Lim
The Technologies and International Development Lab at Georgia Tech researches the practice, the promise, and the peril of information and communication technologies (ICTs) in social, economic, and political development. We study the risks and rewards of ICT systems for people and communities particularly within Africa and Asia. We explore issues of rights and justice in a digital age. And we examine new forms for inclusive innovation and social entrepreneurship enhanced through digital systems.
The T+ID Lab is an interdisciplinary community bringing together computer and social scientists with design and policy specialists. We collaborate directly with stakeholders outside of the Lab to critique technologies, invent new ones, and research how and why (or why not) ICTs can serve as a tool to empower, enrich, and interconnect.