Spiritual care is an important aspect of palliative care. Yet, there are few educational tools to prepare nurses and doctors for conversations about their patients' spirituality. With the intention of being used as part of a larger education program- this chatbot simulates patient responses to help the user practice these often delicate conversations. The chatbot's responses were created using social media data mined from online support groups.
Lab: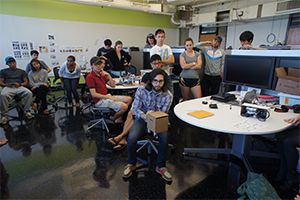 Faculty:
Richard Henneman, Carrie Bruce
Students in Georgia Tech's interdisciplinary MS in Human-Computer Interaction program do multiple group class projects, and a capstone individual project. Some projects are presented as part of other labs listed here; others are showcased in the MS-HCI Project Lab.
The two-year program spans four schools: Industrial Design; Interactive Computing; Literature, Media and Communications (Digital Media Program); and Psychology. Approximately 50 new students enroll each fall semester.