Students:
Yiwen Zhao, Nicholas Tippens, Zixuan Wang, Yajing Yang
ClipLine-A social sharing mobile platform that helps users turn their favorite TV scenes into customized GIFs and instantly share them with their friends and the outside world. Voting up the best GIFs, re-clipping, and following other accounts will also be main features of ClipLine.
Lab: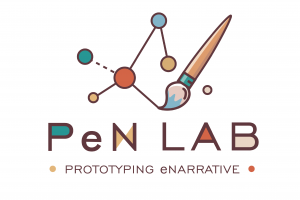 The Prototyping eNarrative Lab (PeN Lab) at Georgia Tech applies digital information design and interaction design principles to digital storytelling to create more complex and expressive narratives, focusing on emerging platforms like experimental television, virtual reality, and augmented reality, and on the intersection of storytelling with game design and simulation design.