Faculty:
Dr. Richard Henneman, Dr. Michael Elliott
Students:
Gurudutt Perichetla, Yining Liu, Kevin Hwang
The traditional concept of Community Supported Agriculture (CSA) is that members of a local community would invest upfront in local farms before a harvesting season in return for "shares" of weekly produce. Since customers invest upfront, they share the benefits and risks with the farmer, and this model strives to promote agricultural and economic prosperity for the farmers while promoting a sense of civic community. 
As we fast forward to today, CSAs have evolved into different distribution models to reach broader customer groups. With that being the case, modern CSAs often lack a sense of community due to the limited connection between farmers and customers.
As we looked into the problem space through a human-centered approach, we learned that farmers need better platforms to support CSAs while customers need more information and transparency to streamline their CSA journey. Centering around the idea of making the value of a CSA more salient and transparent to foster a stronger CSA ecosystem by closely following our research findings, we designed a CSA portal to:
Increase the efficiency and transparency of CSA information flows

Decrease farmer operational workload and admin upkeep time

Streamline activities for both farmers and customers to build a more robust CSA ecosystem
Lab: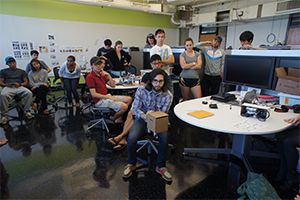 Faculty:
Richard Henneman, Carrie Bruce
Students in Georgia Tech's interdisciplinary MS in Human-Computer Interaction program do multiple group class projects, and a capstone individual project. Some projects are presented as part of other labs listed here; others are showcased in the MS-HCI Project Lab.
The two-year program spans four schools: Industrial Design; Interactive Computing; Literature, Media and Communications (Digital Media Program); and Psychology. Approximately 50 new students enroll each fall semester.