Students:
Amy Chen, Chaeeun Park, Andrew Zhao, Qiqi Yang, Joyce Wu, Ankit Mehta
We are working to develop digital tools to support COVID-19 social media monitoring and outreach by community-based trusted messengers in Georgia, with the goal of addressing COVID-19 vaccine hesitancy among Black and Latinx communities in the state. This work is in collaboration with researchers at Morehouse School of Medicine, Emory University, and a number of other research and community partners. We have developed a dashboard for our partners to browse locally and topically relevant social media content, are designing tools to help them find useful communication resources to counter specific misinformation, and are exploring semi-automated classification of the collected social media content. Over the summer, we also plan to develop new tools to support our partners' targeted text messaging to encourage COVID-19 testing
Lab: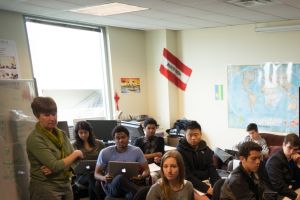 Students:
Harshil Shah, John D Britti, Daniel Nkemelu, Amy Chen, Saira Poonnen, Ciabhan Connelly, Arpit Mathur, Lillie Zhou, Max Karpawich, Matthew Lim
The Technologies and International Development Lab at Georgia Tech researches the practice, the promise, and the peril of information and communication technologies (ICTs) in social, economic, and political development. We study the risks and rewards of ICT systems for people and communities particularly within Africa and Asia. We explore issues of rights and justice in a digital age. And we examine new forms for inclusive innovation and social entrepreneurship enhanced through digital systems.
The T+ID Lab is an interdisciplinary community bringing together computer and social scientists with design and policy specialists. We collaborate directly with stakeholders outside of the Lab to critique technologies, invent new ones, and research how and why (or why not) ICTs can serve as a tool to empower, enrich, and interconnect.