Faculty:
Munmun De Choudhury, Gregory Abowd
Students:
Dong Whi Yoo, Sindhu Ernala, Bahador Saket, Kelsie Belan
Previous research has proven that social media data, such as what people write on Facebook, can reveal some valuable aspects of mental attributes, such as affect or depression. We believe an inferred mental health status based on social media analyses can be useful collateral information which mental health clinicians and patients could utilize in their treatment decision-making processes.
As an interdisciplinary team, we've discussed work practices of mental health clinicians and opportunities where new technologies can support these practices. Based on the discussion, we developed a prototype of a social media augmented assessment tool. We conducted user studies with clinicians in which they explore the tool and provide their own opinions, such as whether they could see medical value in it, whether they could understand the system without a problem, and whether they would like to incorporate the system into their work practices.
Lab: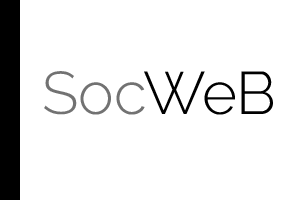 The SocWeB Lab's mission is to develop novel computational techniques, and technologies powered by these techniques, to responsibly and ethically employ social media in quantifying, understanding, and improving our mental health and well-being.