Students:
Cuong (Johnny) Nguyen, Daniel Nkemelu, Ankit Mehta
Hate speech and misinformation, spread over social media platforms, continue to pose significant threats to the safety of people everywhere. The spread of these problematic contents online has inflamed ethnic, political, and religious conflicts in several countries within the global South; examples include the Rohingya genocide in Myanmar, anti-Muslim riots in Sri Lanka and India, and anti-Anglophone riots in Cameroon. For this work, we refer to hate speech and misinformation used in these contexts as inflammatory content due to their ability to inflame existing tensions into real-life violence, as highlighted in the cases above.
Despite such high stakes, there has been a gap in research and practice on efforts to tackle inflammatory content in the Global South. A major reason for this gap is the lack of maturity of natural language tools and the unavailability of benchmark datasets for low-resource language settings. Social media platforms may also not have sufficient regulatory incentives to prioritize these contexts. To minimize the potential impact of problematic online behaviors during high-stakes events like elections, practitioners set up localized social media tracking initiatives. These initiatives are run by distributed contributors scanning social media posts for inflammatory content. However, these contributors are often inundated by the daily content volume and miss out on potentially viral inflammatory posts.
This project explores an approach to support distributed social media tracking initiatives within low-resource language contexts. Specifically, it seeks to understand the dynamics of users who spread inflammatory content online within the context of the Ethiopian civil conflict. Characterizing users who spread inflammatory content can help streamline the work of social media trackers to locate potentially problematic posts before they become viral. The project also aims to investigate how the activity patterns of these users differ from users who did not post or share inflammatory content.
Lab: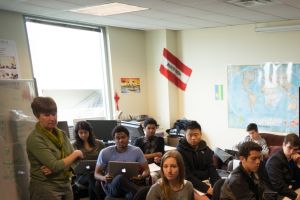 Students:
Harshil Shah, John D Britti, Daniel Nkemelu, Amy Chen, Saira Poonnen, Ciabhan Connelly, Arpit Mathur, Lillie Zhou, Max Karpawich, Matthew Lim
The Technologies and International Development Lab at Georgia Tech researches the practice, the promise, and the peril of information and communication technologies (ICTs) in social, economic, and political development. We study the risks and rewards of ICT systems for people and communities particularly within Africa and Asia. We explore issues of rights and justice in a digital age. And we examine new forms for inclusive innovation and social entrepreneurship enhanced through digital systems.
The T+ID Lab is an interdisciplinary community bringing together computer and social scientists with design and policy specialists. We collaborate directly with stakeholders outside of the Lab to critique technologies, invent new ones, and research how and why (or why not) ICTs can serve as a tool to empower, enrich, and interconnect.