Students:
Jordan Movish, Laurane Saliou, Ryan McManus
Off-premise ordering is a rapidly expanding revenue channel for the restaurant industry, especially among younger, millennial customers (ages 18-34). Fast casual restaurants are making radical changes to capture more of this market segment and increase their share of online sales. However, Moe's Southwest Grill is struggling to keep up, and seeks to improve its customer experience. Our goal is to use the Contextual Design methodology to better understand millenials, their use of online ordering, and identify the ways in which the current online ordering experience can be upgraded to better meet customers' needs. The focus of this project is an improved end-to-end customer and associate experience, from off-premise order to in-store pickup, that spans across multiple touchpoints, both in the digital and physical space.
Lab: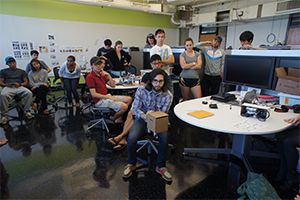 Faculty:
Richard Henneman, Carrie Bruce
Students in Georgia Tech's interdisciplinary MS in Human-Computer Interaction program do multiple group class projects, and a capstone individual project. Some projects are presented as part of other labs listed here; others are showcased in the MS-HCI Project Lab.
The two-year program spans four schools: Industrial Design; Interactive Computing; Literature, Media and Communications (Digital Media Program); and Psychology. Approximately 50 new students enroll each fall semester.