The communication delay inherent in deep space travel will make relying on ground-based mission control to manage the daily lives of astronauts difficult. Thus, we are proposing the design of a mixed-initiative plan (MIP) management system to provide crews with greater autonomy in adapting plans to reflect the current state of the mission. Successful MIP systems contain a formal representation of the work, computational methods to optimize potential solutions, and a user interface for which crewmembers may interact with the schedule. This presentation will detail the creation of the user interface from requirements derivation through preliminary design.
Lab: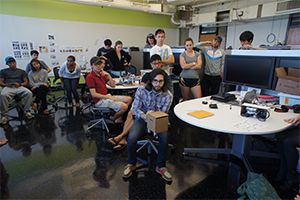 Faculty:
Richard Henneman, Carrie Bruce
Students in Georgia Tech's interdisciplinary MS in Human-Computer Interaction program do multiple group class projects, and a capstone individual project. Some projects are presented as part of other labs listed here; others are showcased in the MS-HCI Project Lab.
The two-year program spans four schools: Industrial Design; Interactive Computing; Literature, Media and Communications (Digital Media Program); and Psychology. Approximately 50 new students enroll each fall semester.