Faculty:
Carl DiSalvo, Michael Nitsche, Clint Zeagler
With their high cognition, engineer-like curiosity, and close relation to humans, orangutans are an extraordinary user to study. The project aims to provide animal care staff and organizations new methods in enriching the lives of animals in their care by creating applications with the Kinect for interactive projections.
Lab: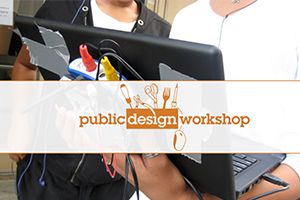 The Public Design Workshop is pedagogical structure created to explore new ways to teach, learn, and do social design within the university. We explore how design contributes to the construction of publics, articulates contemporary social and political issues, and fosters new forms of engagement with technology. We do this through participatory workshops & events, speculative design, and theory & criticism. We design events, workshops, objects, and systems. We also do theory and criticism.We are always open to new collaborators.Current topics of interest include: food and food systems, hackathons, infrastructure, visualizations, tools, and maps.