Students:
Yuchen Zhao, Terra Mae Gasque, Ryan J. Winstead, Kevin Tang, Drew J. Busch, Marian Dominguez-Mirazo
Dino-Store is a persuasive game that was designed to use gamification way to communicate with people and raise awareness on COVID-19. The game's setting is grocery shopping and the mechanic indicates that how different protection strategies, such as wearing mask, keeping social distance can affect people's infection chances in the COVID-19 pandemic. 
Lab: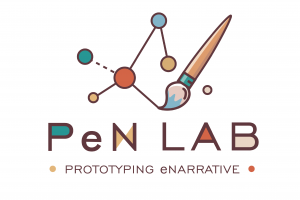 The Prototyping eNarrative Lab (PeN Lab) at Georgia Tech applies digital information design and interaction design principles to digital storytelling to create more complex and expressive narratives, focusing on emerging platforms like experimental television, virtual reality, and augmented reality, and on the intersection of storytelling with game design and simulation design.