Students:
Tom Jenkins, Karl Kim, Catherine Meschia
Designs for Foraging is a design project that explores the use of IoT technologies in support of urban foraging. Through this project, we are developing use-cases; prototyping hardware, software and user interfaces; and exploring the use of open technologies for image capture and analysis. The underlying motivation for this project is to use design as a means of investigating future practices and to provide the basis for near-term open innovation with IoT in support of alternative practices of agriculture.
Lab: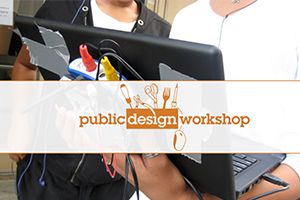 The Public Design Workshop is pedagogical structure created to explore new ways to teach, learn, and do social design within the university. We explore how design contributes to the construction of publics, articulates contemporary social and political issues, and fosters new forms of engagement with technology. We do this through participatory workshops & events, speculative design, and theory & criticism. We design events, workshops, objects, and systems. We also do theory and criticism.We are always open to new collaborators.Current topics of interest include: food and food systems, hackathons, infrastructure, visualizations, tools, and maps.