Blood transfusions rates are steadily decreasing during the covid-19, and 18-24 is lowest represented population. Many college students have never donated because they are not wired to the banked blood shortage problem. Therefore, we are seeking design solutions to increase motivation to donate blood amongst eligible college students, aged 18-24, specifically focusing on those who have never donated before.
Lab: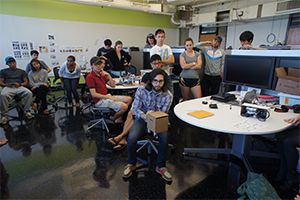 Faculty:
Richard Henneman, Carrie Bruce
Students in Georgia Tech's interdisciplinary MS in Human-Computer Interaction program do multiple group class projects, and a capstone individual project. Some projects are presented as part of other labs listed here; others are showcased in the MS-HCI Project Lab.
The two-year program spans four schools: Industrial Design; Interactive Computing; Literature, Media and Communications (Digital Media Program); and Psychology. Approximately 50 new students enroll each fall semester.