Students:
Zhenxuan Zhang, Sarah Ostadabbas, M.N. Sahadat, and Nordine Sebkhi
Patients suffering from traumatic brain or spinal cord injuries may benefit from neuroplasticity guided and reinforced by motor learning feedback through reorganization of the neural pathways in intact parts of the brain and spinal cord. An enhanced version of a tongue-operated robotic rehabilitation system is presented for accelerating the rate of improvement in the upper extremity motor functions for patients with severe hemiparesis following stroke. A new rehabilitation robot, called Hand Mentor ProTM (HM) was utilized by reading its pressure and joint angle sensors and combining them with control commands from the Tongue Drive System (TDS) to enable both isometric and isotonic target-tracking tasks in a coordinated tongue-hand rehabilitation paradigm.
Lab: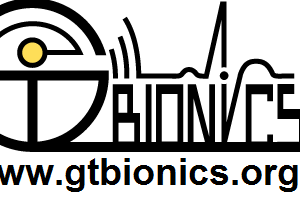 In Georgia Tech Bionics lab (GT-Bionics) we design and develop state-of-the-art medical and scientific instruments for a wide variety of clinical and research applications. More specifically, our focus is on Assistive Technologies, Rehabilitation Engineering, Wearable Devices for Smart Health and Wellbeing, Implantable Microelectronic Devices, and Wireless Neural Interfacing. We are involved in true multidisciplinary research addressing all aspects of complex biomedical systems from hardware, software, and smart algorithm design to evaluation of their full functionality and efficacy on animal subjects or in clinical settings.