The Everyday Georgia project explores the lives of those touched by Georgia Tech's research and technology initiatives. Through the coupling of photographs and interviews, the project shares the personal stories of Georgians - their challenges and accomplishments, and their vital role in Creating the Next at Georgia Tech. In addition to the exhibit, Everyday Georgia has an online presence (everydaygeorgia.gatech.edu) through the Georgia Tech Library with support from the Institute of Museum and Library Services (IMLS). The Georgia Tech Library has preserved the project's audio and photos in its Special Collections and Archives, which maintains the historical records of the Institute.
Everyday Georgia is made possible by the Institute for People and Technology at Georgia Tech, with sponsorship by the Georgia Tech Library's IMLS-funded Communication Through Art Program (Sparks Ignition Grant SP-02-16-0031-16), in partnership with the Georgia Tech Office of the Arts Creative Curricular Initiatives program.
Lab: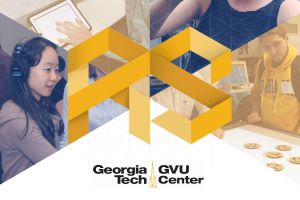 Any research projects that don't have a permanent lab affiliation with GVU and are participating in the GVU Center Research Showcase will display their projects here. These projects are by researchers who are partnering with GVU to showcase their work in people-centered computing or using computing technology to solve scientific, social and technical challenges.
Faculty can request at any time to have their lab listed on the GVU website by emailing gvu@cc.gatech.edu.