Faculty:
Richard Starr, Jeffrey Wilson, Matt Sanders, Michael Best
Students:
Amy Chen, Andrew Zhao, Adam Gerig, Chaeeun Park, Yashila Ramesh, Disha Aravind, Ruozhang (Roo) Qian
The T+ID Lab of Georgia Tech, in a joint project with public health researchers at Emory University and Morehouse School of Medicine, is developing a system to enhance trust and enthusiasm for at-home COVID testing. We will be sending study participants targeted text messages, or "nudges", delivered to their mobile phones. The content of these nudge messages will be developed by health communication experts relying on novel multi-stream data analysis that weaves together more traditional data from surveys and qualitative interviews on participant demographics, health, knowledge, and attitudes with dynamic tracking of emerging topics of interest and attitudes distilled from relevant social media accounts on several popular platforms. In order to aid sense-making of these intertwined data sources, we are employing the popular COM-B framework which details behavior change as a function of Capacity, Opportunity, and Motivation. Our data and nudge-sending dashboard will categorize these rich and varied data inputs against COM-B, presenting unfamiliar data approaches to our health communication experts through a well-understood framework in order to inform the creation and sending of nudge messages.
Lab: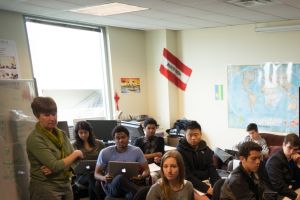 Students:
Harshil Shah, John D Britti, Daniel Nkemelu, Amy Chen, Saira Poonnen, Ciabhan Connelly, Arpit Mathur, Lillie Zhou, Max Karpawich, Matthew Lim
The Technologies and International Development Lab at Georgia Tech researches the practice, the promise, and the peril of information and communication technologies (ICTs) in social, economic, and political development. We study the risks and rewards of ICT systems for people and communities particularly within Africa and Asia. We explore issues of rights and justice in a digital age. And we examine new forms for inclusive innovation and social entrepreneurship enhanced through digital systems.
The T+ID Lab is an interdisciplinary community bringing together computer and social scientists with design and policy specialists. We collaborate directly with stakeholders outside of the Lab to critique technologies, invent new ones, and research how and why (or why not) ICTs can serve as a tool to empower, enrich, and interconnect.