As the 2020 pandemic soared, so did the customer demand for contactless buying online and pickup in-store orders. To meet our customer needs while doing the right things for the safety of our community, Home Depot launched the Curbside Pickup service. In our speed to market, we realized that we may have missed some vital customer and associate experiences. In addition, Business has noticed a decrease in customers using the Curbside service. There has also been a noticeable increase in associate pain points involving Curbside orders. Associates fulfilling these Curbside orders are asking for support to better handle the customer demand for the larger orders.
Lab: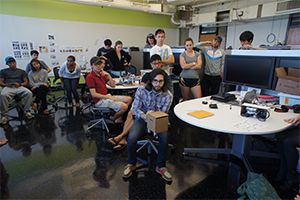 Faculty:
Richard Henneman, Carrie Bruce
Students in Georgia Tech's interdisciplinary MS in Human-Computer Interaction program do multiple group class projects, and a capstone individual project. Some projects are presented as part of other labs listed here; others are showcased in the MS-HCI Project Lab.
The two-year program spans four schools: Industrial Design; Interactive Computing; Literature, Media and Communications (Digital Media Program); and Psychology. Approximately 50 new students enroll each fall semester.