Students:
Nathalie Ye, Ramisa Murshed, Elisa Zhang
This project aims to study the learning needs of Mandarin Chinese heritage speakers and ultimately create a supplemental tool that will be helpful to them for heritage language learning. The study focuses on any adult of age 18 or older, whose dominant language is English, uses Mandarin Chinese as a heritage language, and is currently located in the United States.
Lab: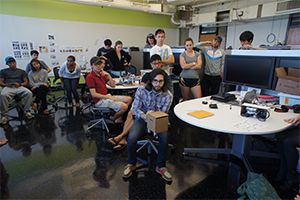 Faculty:
Richard Henneman, Carrie Bruce
Students in Georgia Tech's interdisciplinary MS in Human-Computer Interaction program do multiple group class projects, and a capstone individual project. Some projects are presented as part of other labs listed here; others are showcased in the MS-HCI Project Lab.
The two-year program spans four schools: Industrial Design; Interactive Computing; Literature, Media and Communications (Digital Media Program); and Psychology. Approximately 50 new students enroll each fall semester.