Brazilian Jiu-jitsu (BJJ) is a martial art of Japanese origin that focuses primarily on ground grappling techniques. It was first developed by the Gracie brothers in Brazil and has spread around the world. BJJ is a very physical activity and requires sparring or rolling at some point. Ideally, one would go to their gym or local club to practice with teammates and improve. However, this option is not always feasible to due various reasons such as time, injury, sickness, and more. This leaves one to figure out how to train and improve on their own. Considering this, what this project hopes to do is explore ways that solo training can be improved, particularly in beginners. This project involves a full analysis of current methods of solo training and potential deficiencies. Lastly, this study could have benefits for training other grappling and martial arts such as judo, wrestling, sambo, and more.
Lab: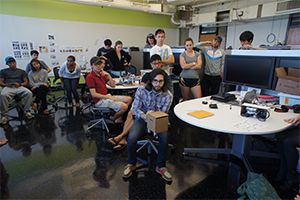 Faculty:
Richard Henneman, Carrie Bruce
Students in Georgia Tech's interdisciplinary MS in Human-Computer Interaction program do multiple group class projects, and a capstone individual project. Some projects are presented as part of other labs listed here; others are showcased in the MS-HCI Project Lab.
The two-year program spans four schools: Industrial Design; Interactive Computing; Literature, Media and Communications (Digital Media Program); and Psychology. Approximately 50 new students enroll each fall semester.