The Interactive Topographic Data Visualizer (ITDV) is a system that facilitates a group of people to share in the exploration of geospatial solutions on an interactive projection mapped surface. The system provides a tangible interface to satellite imagery, topographic maps, and other geo-referenced, spatio-temporal data. Current installations display historic mountain gorilla ranging data at the Dian Fossey Gorilla Fund International's Karisoke Research Center in Musanze, Rwanda.
The ITDV is constructed from 80/20 aluminum extrusion. This system allows for customization and variability in the design to meet any application. Utilizing short throw projectors, a large area can be covered by the image without requiring excessive height. The system can be expanded to cover extensive areas. Using sand as a projection surface allows for the system to be sculpted to represent many topographies. The design of the ITDV allows for it to be transported with relative ease and minimal deconstruction.
The software is architected using a microservices approach where each part of the system is optimized to the best performance. Simple web clients using HTML5 and WebGL render the graphics, while other sensors handle user inputs. The underlying websocket technology provides real-time synchronization of multiple sub-systems. This allows the system to easily scale to larger installations, and allows the integration of other devices including mobile phones and tablets.
"This sand box technology is amazing! I had four demos yesterday for four different schools and it all went smoothly. Everyone loved it and the students did not want to leave that section. They asked so many questions about gorillas, the park and the technology itself. Ironically they were so quiet during the previous sections of the tour and when they reached the sand box, they came to life! And started asking even questions related to previous sections. It's as if the sandbox awakes them from a deep sleep!" - Karisoke Director of IT, Jules Abiyingoma
Lab: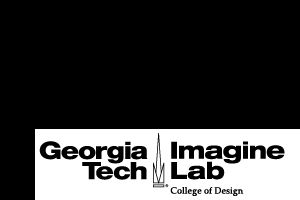 Faculty:
Noah Posner, Miroslav Malesevic
The IMAGINE (Interactive Media Architecture Group in Education) Lab is composed of a group of researchers and students with a mission of serving the Architecture/Engineering/Construction (AEC) community by: 1. Providing exemplary applications of cutting edge, architectural visualization and interaction technologies. 2. Preparing students in the use of these technologies. IMAGINE realizes the benefits and potential of integrating research and education. The staff members of the IMAGINE Lab offer courses in architectural visualization and physical interaction. Student members are actively involved in applied, sponsored projects that are related to the lab's research interests. The IMAGINE Lab maintains 3D models of the Georgia Tech campus and sourounding area for the use by students, staff and faculty.