Faculty:
Dr. Carrie Bruce, Hunter Spence
Students:
Courtney Allen, Hank Duhaime, Rex McKay
How do you making waiting around less tedious? We've partnered with the Georgia Aquarium to find a way to help build the excitement for the Dolphin Celebration shows.
Our solution tells guests the story and capabilities of dolphins, from which we are prototyping a single chapter that focuses on the wonders of echolocation. This project shows the designs of five interactive modules, called "chapters." Each teaches elements of dolphin behavior and interactions with their natural environment.
These chapters are:
"Dolphin Splash," an introduction to a set of micro interactions that educate guests about dolphin anatomy and habitats;
"Porpoising around," a bouncing game where digital dolphins swim along with their guest companion;
"Using your Melon," a charades game where digital dolphins interpret guests' gestures through echolocation;
"Circle up Team," a rotating tabletop game where guests work together to coral fish into a bait ball for digital dolphins to eat; and
"This is no Fluke," a walkthrough photo gallery that showcases mankind's relationship with dolphins, including the GAQ's ongoing conservation efforts.
Lab: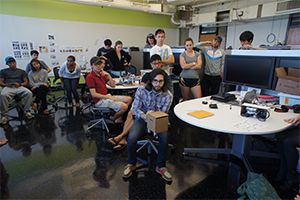 Faculty:
Richard Henneman, Carrie Bruce
Students in Georgia Tech's interdisciplinary MS in Human-Computer Interaction program do multiple group class projects, and a capstone individual project. Some projects are presented as part of other labs listed here; others are showcased in the MS-HCI Project Lab.
The two-year program spans four schools: Industrial Design; Interactive Computing; Literature, Media and Communications (Digital Media Program); and Psychology. Approximately 50 new students enroll each fall semester.