Faculty:
Yanni Alexander Loukissas
In collections of scientific and cultural history that are too big to see, metadata act as virtual handles for rare and delicate artifacts from the past. At the Arnold Arboretum, a collection of long-lived trees, vines, and shrubs managed by Harvard University, landscapes from around the world and across time are stitched together by metadata. However, metadata are worthy of study themselves. Created in varied social and technological eras, they register the organizational structures and values of their time. Through a combination of data visualization and interviews with Arboretum staff, this essay illuminates what metadata can teach us about their own social and material histories, as well as how to study collections digitally.
Lab: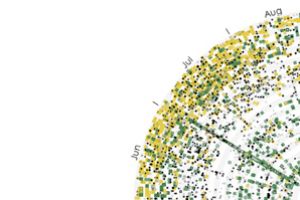 The Local Data Design Lab is focused on bridging the substantial divide between two complimentary, but largely disconnected areas of work: data studies and data visualization. The first is an area of scholarly inquiry that has emerged recently in response to the phenomenon of Big Data and seeks to make sense of data from a social perspective. The second is a form of design practice, which produces informative and expressive interfaces to data. It is influenced by, but more publicly oriented than the sub-field of computer science called information visualization. The goal of this crossover research is to develop new models of visualization that inform and engage, but also prompt reflection on the nature of data and the work that they do. Our projects take on a variety of interrelated forms:
Empirical data studies that can inform practice in data visualization
Data visualizations that support or embody our studies of data
Hands-on workshops that enable others to engage critically with data
Beyond its impact in scholarship and practice, the research of the Local Data Design Lab has the potential to improve data literacy in the public realm and is rapidly finding purchase in education, journalism, advocacy and planning-all of which struggle to keep people informed in the face of Big Data.