We offer a ?rst attempt to measure the global digital native population with a model for calculating the number of digital natives in each country of the world. We have calculated the size of the digital native population by country, by region and by income level and have related the presence of digital natives to education and literacy levels, and ultimately to policy-making. According to the model, in 2012 there were around 363 million digital natives out of a world population of around 7 billion – or 5.2 per cent. De?ning "youth" as young people aged 15 to 24, this means that 30 per cent of the world's youth have been active online for at least ?ve years. While it follows that fewer than a third of the world's young people today are digital natives, this group nonetheless plays an important role: ?rst, because where the online population is concerned, youth are clearly overrepresented, and second, because digital natives are key drivers when it comes to ICT uptake, innovation and impact.
Lab: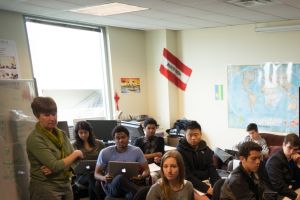 Students:
Harshil Shah, John D Britti, Daniel Nkemelu, Amy Chen, Saira Poonnen, Ciabhan Connelly, Arpit Mathur, Lillie Zhou, Max Karpawich, Matthew Lim
The Technologies and International Development Lab at Georgia Tech researches the practice, the promise, and the peril of information and communication technologies (ICTs) in social, economic, and political development. We study the risks and rewards of ICT systems for people and communities particularly within Africa and Asia. We explore issues of rights and justice in a digital age. And we examine new forms for inclusive innovation and social entrepreneurship enhanced through digital systems.
The T+ID Lab is an interdisciplinary community bringing together computer and social scientists with design and policy specialists. We collaborate directly with stakeholders outside of the Lab to critique technologies, invent new ones, and research how and why (or why not) ICTs can serve as a tool to empower, enrich, and interconnect.