Research, on current equine technologies, shows that limited exploration is being done in the space of wearable technology. MR ED is a research project focused on designing wearable tech for horses & riders.
Lab: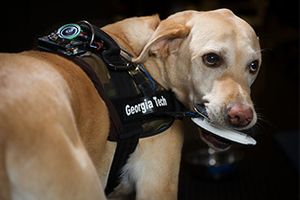 Faculty:
Melody Jackson, Thad Starner, Clint Zeagler, Scott Gilliland
Students:
Giancarlo Valentin, Larry Freil, Ceara Byrne, Jacob Logas, Shuyi Sun, Sarah Storer, Kristen Lee, Marcia Schulman, Amanda Schmitt
We explore the emerging area of Animal-Computer Interaction focusing on interfaces for inter-species communication and on the design and evaluation of interactive technology for users of multiple species.