The goal of this study is to learn about how the MS Human-Computer Interaction program (HCI) at Georgia Tech can be tailored to suit students' specific needs and goals. Students entering the program would benefit from a greater understanding of how to move through the program to gain the skills needed for their desired roles post-graduation. In order to form a complete picture of what student needs are, the research team will collect data about the current MS HCI program structure, current industry expectations of HCI grads, and current student expectations. Interviews and surveys will be used to learn about industry and student expectations, as well as current skills used in their role. The qualitative data collected from these methods will be used to inform the design of a digital program guide tool. The research team will evaluate the prototype with current MS HCI students.
Lab: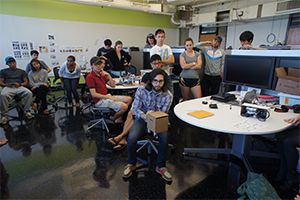 Faculty:
Richard Henneman, Carrie Bruce
Students in Georgia Tech's interdisciplinary MS in Human-Computer Interaction program do multiple group class projects, and a capstone individual project. Some projects are presented as part of other labs listed here; others are showcased in the MS-HCI Project Lab.
The two-year program spans four schools: Industrial Design; Interactive Computing; Literature, Media and Communications (Digital Media Program); and Psychology. Approximately 50 new students enroll each fall semester.