Over the last forty years, the city of Shenzhen in southeastern China has enjoyed exceptional success as the country's first special economic zone (SEZ). Despite humble beginnings, Shenzhen has emerged as the capital of China's technological revolution, evolving a dense and idiosyncratic innovation ecosystem founded upon industrial manufacturing, labor and capital flows, urban development policy, and a distinct, entrepreneurial spirit. However, while more recent literature has remained largely positive on Shenzhen's prospects in the near-term, the last several years have seen sweeping socioeconomic and political changes threaten the sustainability of the city's growth. This paper employs in-depth analysis of news and policy documents, peer-reviewed research, archival data, and a series of semi-structured interviews with prominent academics and industry professionals to determine the effect of these contemporary contexts on Shenzhen's innovative output. Our findings indicate that "contrary to assumptions of smooth, steady development over the next several years" Shenzhen will enter a "tightrope era" of pronounced uncertainty as it seeks to transition from one model of growth to another. The city's indigenous innovation and its economic well-being will be tested as Shenzhen weathers the most significant headwinds it has faced in its brief, four-decade-long history.
Lab: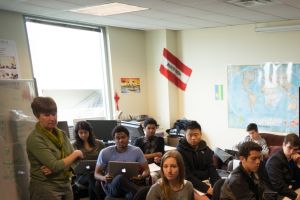 Students:
Harshil Shah, John D Britti, Daniel Nkemelu, Amy Chen, Saira Poonnen, Ciabhan Connelly, Arpit Mathur, Lillie Zhou, Max Karpawich, Matthew Lim
The Technologies and International Development Lab at Georgia Tech researches the practice, the promise, and the peril of information and communication technologies (ICTs) in social, economic, and political development. We study the risks and rewards of ICT systems for people and communities particularly within Africa and Asia. We explore issues of rights and justice in a digital age. And we examine new forms for inclusive innovation and social entrepreneurship enhanced through digital systems.
The T+ID Lab is an interdisciplinary community bringing together computer and social scientists with design and policy specialists. We collaborate directly with stakeholders outside of the Lab to critique technologies, invent new ones, and research how and why (or why not) ICTs can serve as a tool to empower, enrich, and interconnect.