Students:
Hank Blumenthal, Deji Fajebe, Nekabari Goka
The Nigerian film industry – colloquially known as Nollywood – is enormous, innovative, and digital. We are working to extend its capacities with new media technologies such as games, mobile and social media. In addition, we are developing social messaging campaigns within Nollywood films in particular around health issues. Come see emerging technologies and film content, including the feature-length Nollywood film we produced and are premiering.
Lab: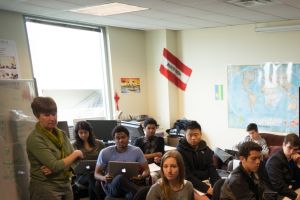 The lab's research focuses on information and communication technologies for social, economic, and political development. In particular the lab studies mobile phones, the internet, and internet-enabled services and their design, impact, and importance within low-income countries of Africa and Asia. The lab researches engineering, public policy, hci/usability, and sustainability issues as well as methods to assess and evaluate social, economic, and political development outcomes. They are also interested in the impact of information and communication technologies on the development-security nexus and in post-conflict peace and reconciliation.