Usually, objects are considered to be discrete instantiations of something unique and unitary, comprising one individual thing and not another. Some technological developments are making that assumption murkier. Ubiquitous computing and mobile devices have begun to shift how objects operate. As examples, clothing is being instrumented with computational capabilities, creating the fields of "wearables." Networked appliances in the home become members of "the Internet of Things." From bit players in the world, electronics and computation have augmented everyday objects into viable actors in their own right, active participants in the world that sense, report, and scheme to their own ends.
By revealing these multiple obligations in more explicit ways, computational communication underscores the idea that objects in the world have always been members of multiple networks, involving themselves in social arrangements both subtly and dramatically. This simultaneous involvement in various networks-information, electronic, legal, cultural, material, and more-is what I call Object Ecology. What this ecological understanding of objects reveals is that objects cannot and should not be treated discretely. Instead, they must be considered as component members of an assemblage of actants.
One ecosystem of objects that resonates deeply for most people is the home. 'Domesticity' is comprised of all sorts of objects: plates, furniture, heating vents, entertainment systems, family members, rugs and much more. By providing computational capabilities to materials in the home, the Internet of Things has entered this domain-brashly, but also intriguingly. It proffers a greater control of their environment to residents of "smart homes," but access to this kind of technology is asymmetrical. Many communities and styles of living are excluded from the usual residential understanding of the Internet of Things. These outliers-cohousing communities, tiny homes, a combination live/work spaces, homes with multiple adult roommates, and so on-offer a vantage to both critique contemporary IoT practices and provide a provocative set of sites to do design work from an ecological perspective.
Lab: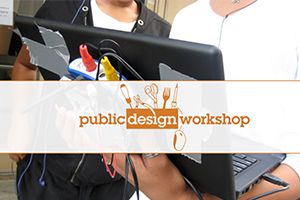 The Public Design Workshop is pedagogical structure created to explore new ways to teach, learn, and do social design within the university. We explore how design contributes to the construction of publics, articulates contemporary social and political issues, and fosters new forms of engagement with technology. We do this through participatory workshops & events, speculative design, and theory & criticism. We design events, workshops, objects, and systems. We also do theory and criticism.We are always open to new collaborators.Current topics of interest include: food and food systems, hackathons, infrastructure, visualizations, tools, and maps.