Students:
Jason Paul, Brianna Pritchett, Danielle Schechter
Right now, paradoxically, streaming music service adoption is accelerating while a resurgent vinyl movement also takes place. Listeners are choosing to own more music audio for less and also less for more, respectively. Sometimes these are the same consumers. The difference in cost per song between these two mediums is an order of magnitude, so a simple content based approach to understanding is clearly not a sufficient framework. The differentiating factor people are engaging with must then be the experience.
How can we recapture experiences that were enjoyed by music lovers in the past through means of music media ownership and engagement in this ephemeral streaming music media age? 
How can we preserve the benefits of the present cutting edge technology in streaming music media access and playback while reclaiming, integrating, and supporting those (almost) bygone historical, emotionally valuable experiences involved in "collecting music" into the modern context?
 
Lab: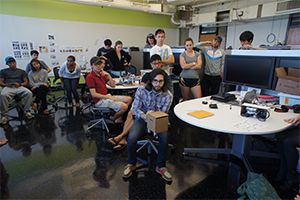 Faculty:
Richard Henneman, Carrie Bruce
Students in Georgia Tech's interdisciplinary MS in Human-Computer Interaction program do multiple group class projects, and a capstone individual project. Some projects are presented as part of other labs listed here; others are showcased in the MS-HCI Project Lab.
The two-year program spans four schools: Industrial Design; Interactive Computing; Literature, Media and Communications (Digital Media Program); and Psychology. Approximately 50 new students enroll each fall semester.