The air travel experience is notorious for being cumbersome, tiring, and downright stressful. Is there a way we could help eliminate or reduce some of these pain points for travelers? The goal of this study is to understand the needs of different kinds of travelers and see how the air travel experience could be improved from a baggage perspective. The output of this project is a functional prototype to help travelers get their bags where they need to go and spend as little time waiting at the airport as possible.
Lab: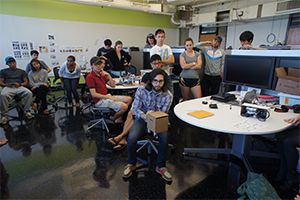 Faculty:
Richard Henneman, Carrie Bruce
Students in Georgia Tech's interdisciplinary MS in Human-Computer Interaction program do multiple group class projects, and a capstone individual project. Some projects are presented as part of other labs listed here; others are showcased in the MS-HCI Project Lab.
The two-year program spans four schools: Industrial Design; Interactive Computing; Literature, Media and Communications (Digital Media Program); and Psychology. Approximately 50 new students enroll each fall semester.