Pedestrians are the largest group of road-users and they represent a large proportion of road casualties. The researchers have found some evidence that divided attention disrupts walking-making people less likely to notice novel stimuli and more likely to cross a street in a risky fashion.
More than 1,500 pedestrians were estimated to be treated in emergency rooms in 2010 for injuries related to using a cell phone while walking, according to a new nationwide study. The number of such injuries has more than doubled since 2005, even though the total number of pedestrian injuries dropped during that time.
Via this project, I wish to find an optimal solution for mobile use while crossing streets to reduce any casualties
Lab: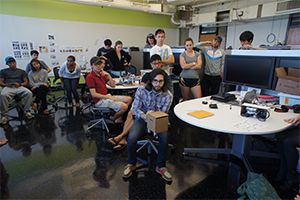 Faculty:
Richard Henneman, Carrie Bruce
Students in Georgia Tech's interdisciplinary MS in Human-Computer Interaction program do multiple group class projects, and a capstone individual project. Some projects are presented as part of other labs listed here; others are showcased in the MS-HCI Project Lab.
The two-year program spans four schools: Industrial Design; Interactive Computing; Literature, Media and Communications (Digital Media Program); and Psychology. Approximately 50 new students enroll each fall semester.