Faculty:
Kim Cobb, Russ Clark, Tim Cone, Emanuele Di Lorenzo, David Frost, Jayma Koval, Kyungmin Park
Coastal flooding represents a growing threat to the City of Savannah and adjoining areas in Chatham County, which are home to diverse communities rich with cultural heritage and thriving economies. The Smart Sea Level Sensors project is a partnership between Chatham Emergency Management Agency (CEMA) officials, City of Savannah officials, and Georgia Tech scientists and engineers who are working together to install a network of internet-enabled sea level sensors across Chatham County. The real-time data on coastal flooding will be used for emergency planning and response.
Lab: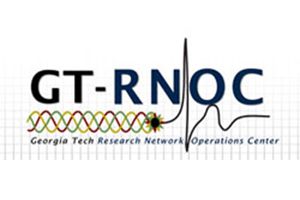 Faculty:
Siva Jayaraman, Sean Donovan
The Georgia Tech Research Network Operations Center (GT-RNOC) exists to accelerate innovation in networking, computing, mobility and convergence by enabling communities of collaboration. GT-RNOC provides, supports and maintains a unique end-to-end infrastructure within a realistic operational setting, accessible to world class students, researchers and innovators from various disciplines across the many Georgia Tech research centers.
GT-RNOC leverages the unique position of Georgia Tech as a pre-eminent network and network service hub in the state, the region and increasingly in the world. It provides researchers with access to this unique network infrastructure. It provides network administrators and service providers with an invaluable tool for developing and testing new management solutions in a cutting edge environment. Industry members of GT-RNOC include leaders in wireless, telecom, and cable, plus equipment, application, and content providers.
http://rnoc.gatech.edu