When a person goes missing, the ability to quickly canvas a large area is crucial. However, many search and rescue missions occur in rough terrain where it can be difficult, slow, and even dangerous to cover on foot. Drones have become a cost- and time-effective solution, able to quickly fly over areas of interest and provide a video feed from a mounted camera. A pilot and spotter monitor the video feed through an app on a tablet or phone and watch for clues which might indicate where the missing person is located. There are several apps already available which cover various tasks involved, but none are considered to be complete. Through interviews and participatory design, a new mobile interface is created to cover all user needs in streamlining missions.
Lab: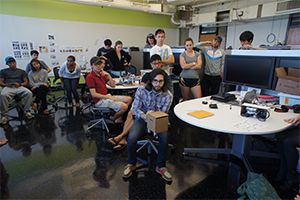 Faculty:
Richard Henneman, Carrie Bruce
Students in Georgia Tech's interdisciplinary MS in Human-Computer Interaction program do multiple group class projects, and a capstone individual project. Some projects are presented as part of other labs listed here; others are showcased in the MS-HCI Project Lab.
The two-year program spans four schools: Industrial Design; Interactive Computing; Literature, Media and Communications (Digital Media Program); and Psychology. Approximately 50 new students enroll each fall semester.