Students:
Paul Lazarus, Amanda Meng, Tulika Saraf, Thomas Smyth, Alex Stelea
We are developing technological platforms, human and social processes, and the underlying creative abilities to leverage social media and digital networks to enhance democracies especially in Africa. Our current work has focused on participation in and monitoring of elections while future work will expand that frame seeking to foster broader and deeper civic engagement, especially among youth, the promotion of government accountability and efficacy, and the constructive creative ability to hack democracy. The Social Media Tracking Center (SMTC) encompasses a process to monitor and respond in real-time to reports from systems such as Twitter, Facebook, Google+ and Ushahidi. The technological platform facilitating the SMTC is Aggie, our social media tracking software, which allows the aggregation and integration of social media data streams along with real-time trend analysis and visualizations.
Lab: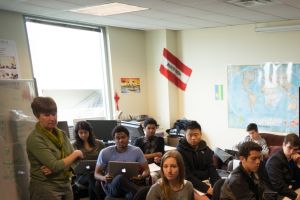 Students:
Harshil Shah, John D Britti, Daniel Nkemelu, Amy Chen, Saira Poonnen, Ciabhan Connelly, Arpit Mathur, Lillie Zhou, Max Karpawich, Matthew Lim
The Technologies and International Development Lab at Georgia Tech researches the practice, the promise, and the peril of information and communication technologies (ICTs) in social, economic, and political development. We study the risks and rewards of ICT systems for people and communities particularly within Africa and Asia. We explore issues of rights and justice in a digital age. And we examine new forms for inclusive innovation and social entrepreneurship enhanced through digital systems.
The T+ID Lab is an interdisciplinary community bringing together computer and social scientists with design and policy specialists. We collaborate directly with stakeholders outside of the Lab to critique technologies, invent new ones, and research how and why (or why not) ICTs can serve as a tool to empower, enrich, and interconnect.