Students:
Joshua Crisp, Kamryn Harris, Elizabeth Hill, Miro Malesvic
Compete in an immersive steampunk environment hot-air-balloon race against your arch nemesis using a custom VR controller. The evil nemesis has sabotaged your balloon and stolen your robot, now you must work against the odds to keep your balloon afloat, save your robot, and prove you are the best inventor in Mountaintown! This game makes use of a specialized controller that combines a familiar motion with pressure sensitive pump to provide real-time feedback and a deeper immersive experience.
Lab: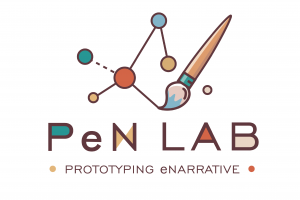 The Prototyping eNarrative Lab (PeN Lab) at Georgia Tech applies digital information design and interaction design principles to digital storytelling to create more complex and expressive narratives, focusing on emerging platforms like experimental television, virtual reality, and augmented reality, and on the intersection of storytelling with game design and simulation design.