Students:
Brendan Cecere, Annick Huber, Cookie Nguyen, Sally Xia
StrangVR Things is a VR prototype that crafts an immersive and engaging experience within the narrative world of Netflix's original series, Stranger Things. The user takes on the role of Eleven and must escape a hostile environment by leveraging her telekinetic powers. Our design aims to allow show viewers to explore the dangers of the Stranger Things world through Eleven's eyes and endow viewers with the same mysterious powers.
Lab: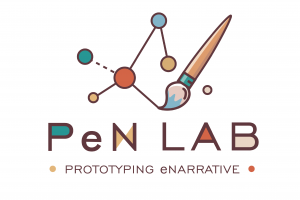 The Prototyping eNarrative Lab (PeN Lab) at Georgia Tech applies digital information design and interaction design principles to digital storytelling to create more complex and expressive narratives, focusing on emerging platforms like experimental television, virtual reality, and augmented reality, and on the intersection of storytelling with game design and simulation design.